New Age of Union Seaplane Boosts Kalaweit Aerial Seeding and Reforestation Efforts in Borneo
Article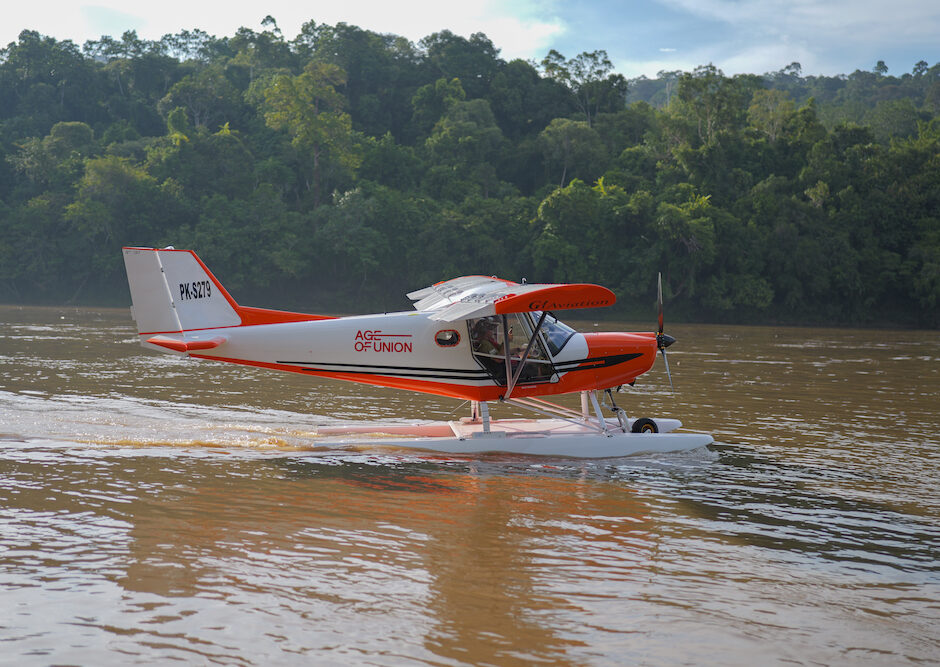 Age of Union has supported Kalaweit in purchasing an ultralight seaplane, branded with the organization's logo, for aerial surveillance and seeding missions in Borneo, Indonesia. This significant step aligns with Kalaweit's mission to preserve wildlife and restore the environment. The seaplane has a flight autonomy of four hours, enabling it to cover the entire Dulan Forest and identify new areas to protect or regenerate — and will serve as a deterrent to companies and individuals operating near the forest.
When arriving by plane, the full scale of the disaster in Borneo, Indonesia, becomes painfully clear. As one peers out of the window, what was once a verdant and diverse rainforest is now tens of millions of hectares of palm oil plantations that stretch unbroken from the coast to the mist-shrouded mountains in the distance. The tragic loss of the once-glorious rainforest that once covered this colossal island, home to 80% of the world's biodiversity and the most diverse range of plant and animal species, is still unfolding before our very eyes.
Today, only 25% of the forest remains, but there is still time to act and support the people working for and with the local communities to preserve the remaining wildlife and restore what has been neglected and destroyed.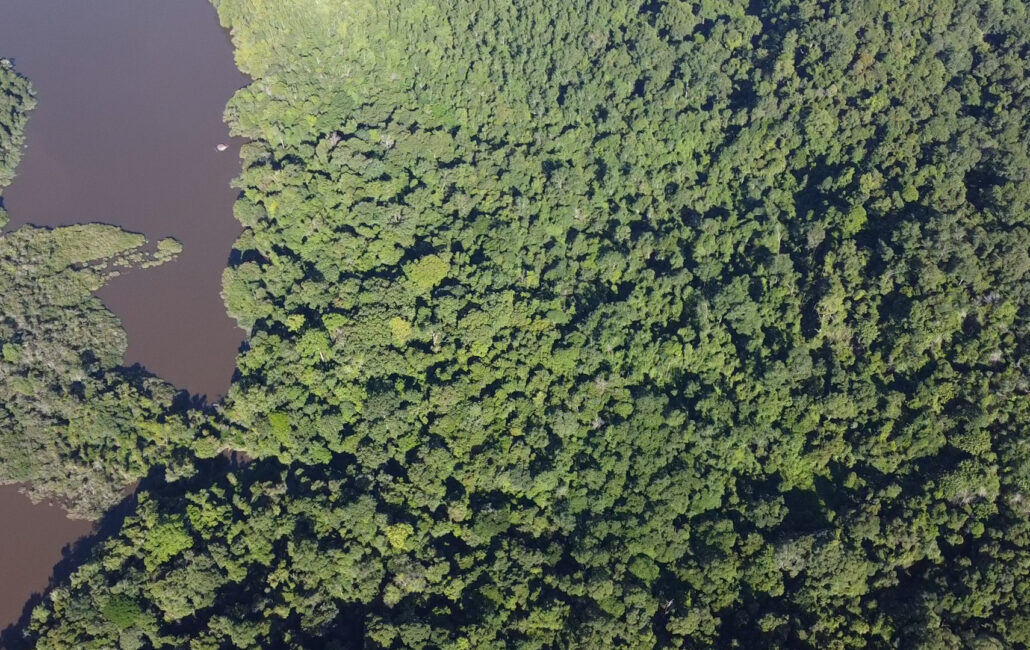 In 2022, Age of Union donated $1 million to Kalaweit and its founder Chanee, who has spent 25 years working in the Dulan Forest — woodland in the heart of the island and the Dayak communities.
Of this donation, $800,000 was used to protect the 750 hectares of the Dulan Reserve that were still at risk. The innovative conservation protocol gives the Dayak usufruct rights of the forest but prohibits hunting, logging, and, most importantly, the sale of forest parcels to palm oil companies — something a local family under financial pressure could legitimately do. The new acquisition brings the total forest area under Kalaweit's protection to 1,500 hectares. What's more, this initiative inspired the mayor of Butong village to follow suit and protect the community forest north of the Dulan Reserve, adding 500 hectares to the conservation area.
The remaining $200,000 was used to purchase a small aluminum microlight aircraft, build a floating hangar, and provide field training for a four-person team to ensure aircraft safety and maintenance.
"It's a natural progression for us at Kalaweit to observe and act from the air. For over ten years, we've been flying over the forest in a paramotor to monitor, spot, seed and regrow," explains Chanee. "This plane will allow us to act on an entirely new scale. Four hours of flight autonomy means we can cover the entire Dulan Forest and find new areas to protect or rehabilitate. The plane is also a deterrent for companies and ill-intentioned individuals operating near the forest: they see us in the sky and know we're watching."
Chanee adds that the plane will help amplify the destroyed forest plots' aerial seeding and reforestation activities.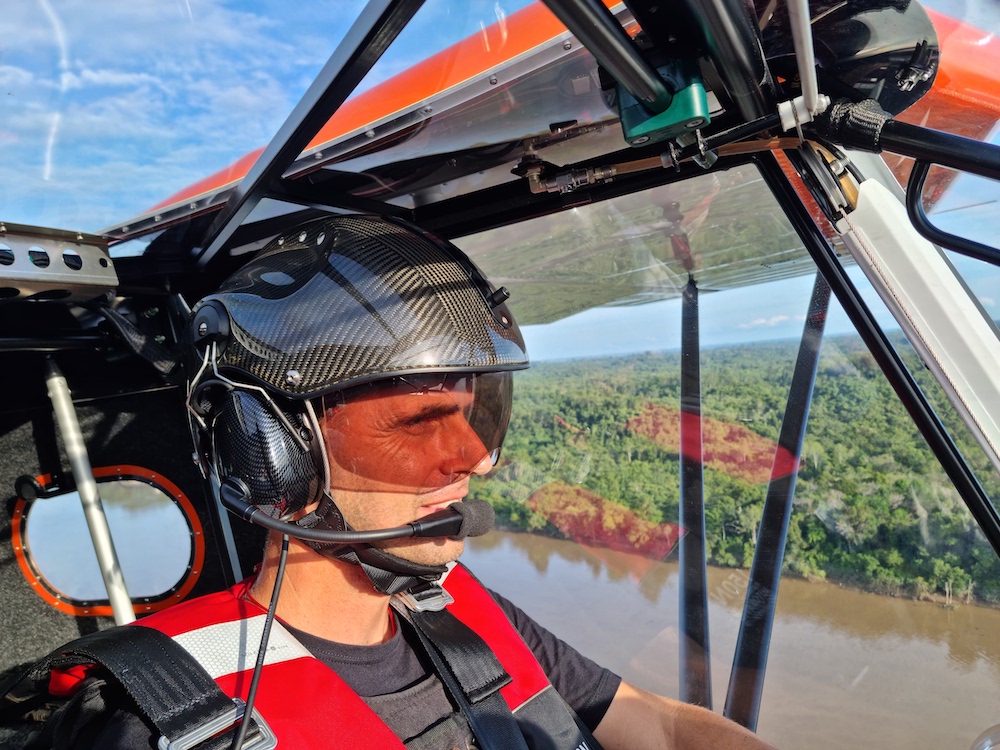 "Sowing from the air only has a 20% success rate, which means the seeds don't necessarily fall in the right place to germinate," he says. "But having multiple flights and seeds in the same location maximizes regeneration. Plus, since we buy the seeds directly from the villagers, the more we sow, the more we contribute to the local economy. It's a virtuous circle."
Ordered in June 2022 and custom-built in France to meet Chanee's needs and Borneo's humid climate conditions, the ultralight seaplane arrived in Borneo in early 2023 in a container with two French instructors. While he travelled to France to complete his pilot training, the conservationist says he found receiving intensive training in Borneo under actual conditions essential.
"I put myself through 50 hours of solo flying to master the aircraft before taking a passenger on board and starting the aerial surveillance and seeding missions," he explains. "With each flight, I learn a little more, fly farther, and take stock of this aircraft's extraordinary impact on all our activities in the Dulan Forest and beyond for the next few years."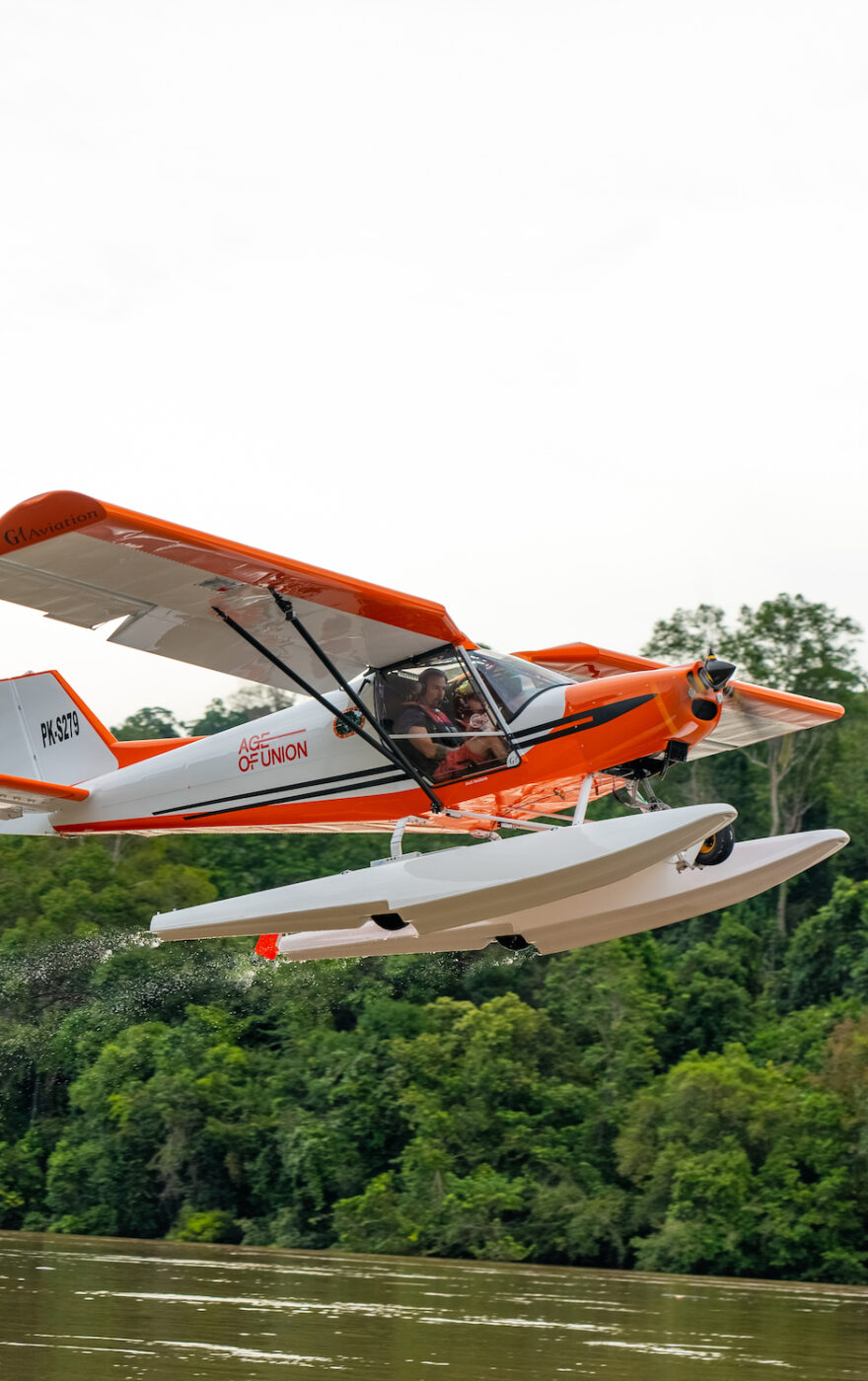 If Kalaweit had not intervened in the region in 2019, half of the Dulan Forest would have likely already been destroyed. Kalaweit's philosophy of action and close collaboration with the locals makes it all happen. "I'm nothing without the precious knowledge of the Dayak," says Chanee. "Every day, they teach me how to make the best decisions."
Chanee and his twenty-year-old son Andrew are also big believers in the power of communication. Through their published books and YouTube videos viewed by millions in Indonesia and around the world, they share an inspiring and hopeful vision of their actions and successes. As a result, Kalaweit has never had to ask anyone for help.
"We deal with things concretely and pragmatically here. Kalaweit is a grassroots organization. Scientific reports or data will not save the forest; instead, local communities guided and supported by organizations like ours will … that's what works. Dax Dasilva, the founder of Age of Union, understands this and believes in us. He is a man of action, an entrepreneur who wants concrete results like those Kalaweit has been achieving since its inception. We put a sticker with his name on the copilot seat of the plane, as if he was accompanying us on every flight. I hope one day he sees the results with his own eyes."
Chanee began his mission to save injured or sick gibbon monkeys alone in a wooden hut in the middle of the forest 25 years ago. Since then, he has opened three centres and saved over 2,000 animals. Over the years, he has understood that acting upstream of the problem is necessary.
"Protecting monkeys and animals is vital if you can do it. And we'll keep doing it. But seeing animals in cages doesn't make me happy. There's no such thing as a perfect cage. My goal is to ensure they are no longer threatened in their natural habitat, whether by human diseases, hunting or poaching, or deforestation. There are 300 gibbons in the 2000 hectares of Dulan Forest that Kalaweit protects — 300 monkeys that I'll never worry about again. My greatest satisfaction is animals roaming free in a forest we've protected."
Article written by

Cédric Varial
More articles
Caribbean, Project

Leatherback Turtles Face Existential Threats. This Trinidadian Group Fights for Their Future.
Read more about this article
Stories
of
change
and direct
action
from
the field