Earth Centre
The Age of Union Earth Centre is based in Montreal, Canada, and is the headquarters of Age of Union. The Centre also hosts environmental exhibitions and programming that reflect the mission of our team and that of like-minded folks who are determined to protect the planet's threatened species and ecosystems.
The centre features 12,000 feet of exhibition space on two floors, several immersive meditation rooms, an interactive arcade, an outdoor pool, and a garden space.
At the moment, our centre is open once a month. Our next Open Houses are on Feb. 18 and March 25, from 1 to 6 p.m.
Visit us at our next event.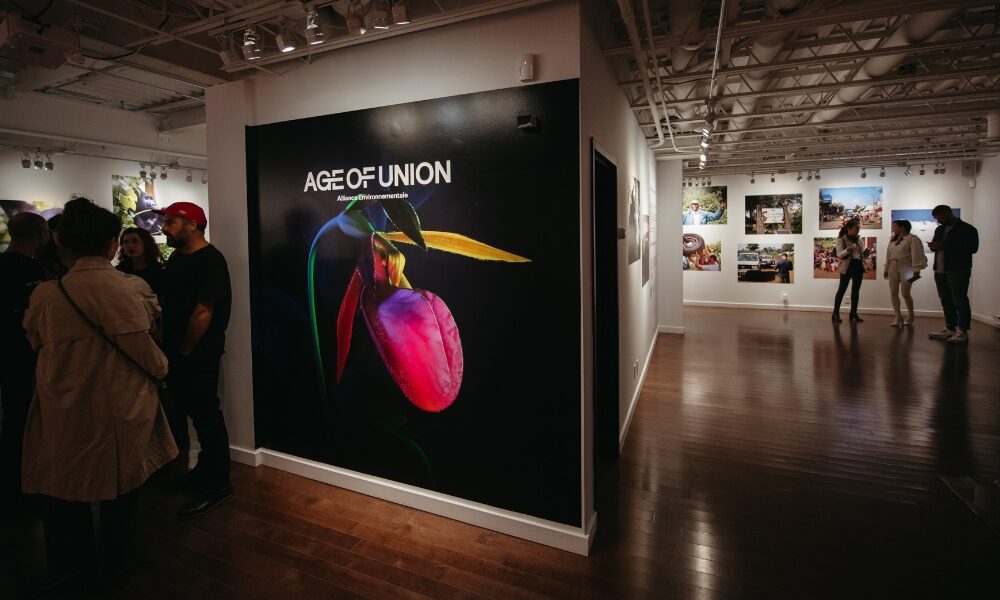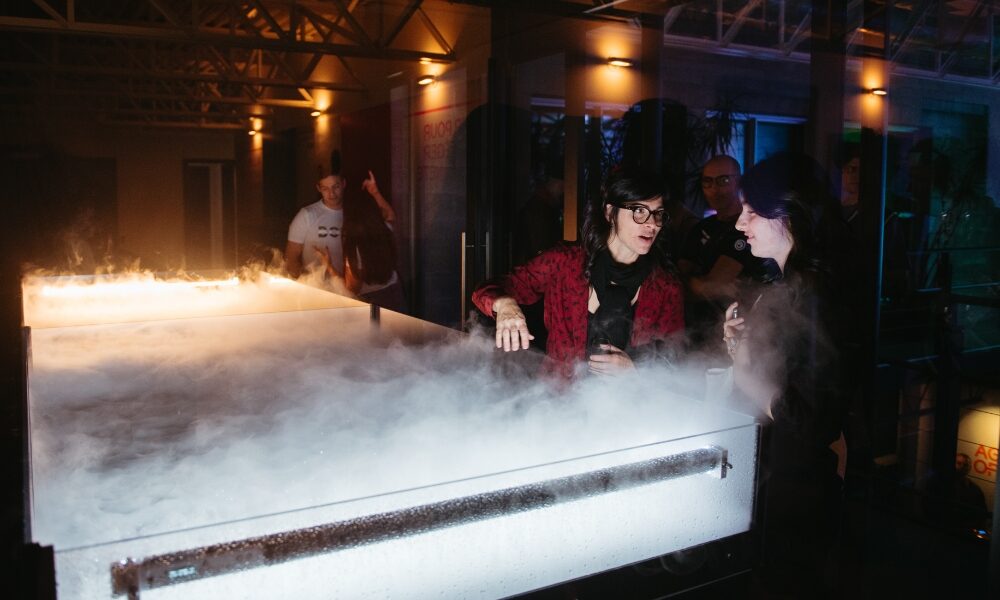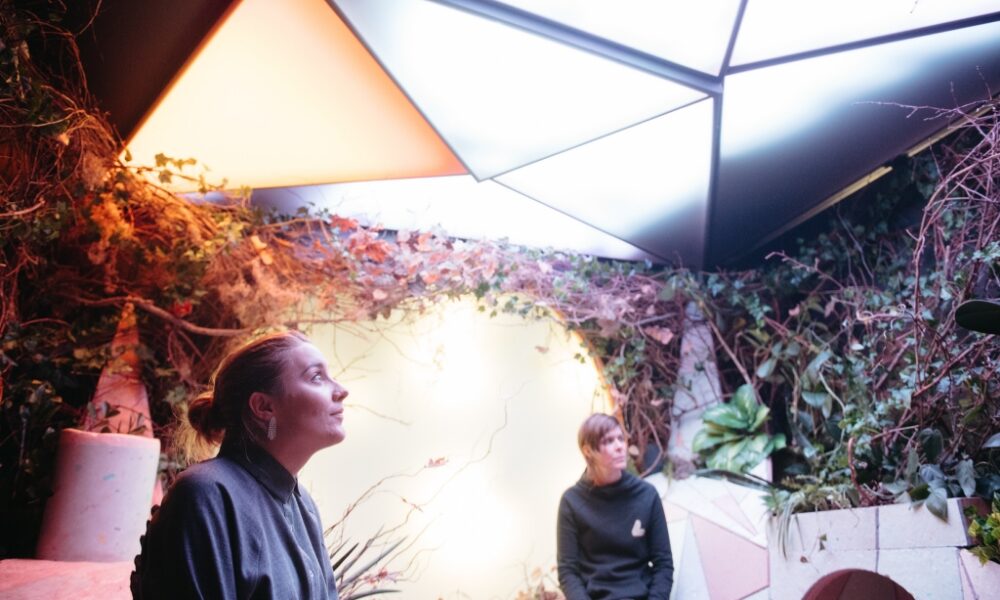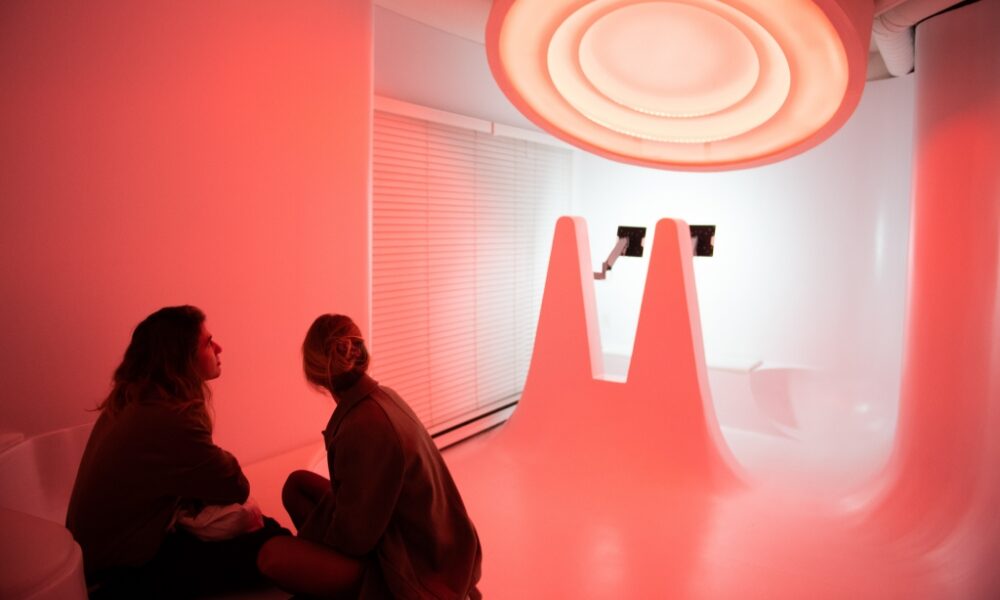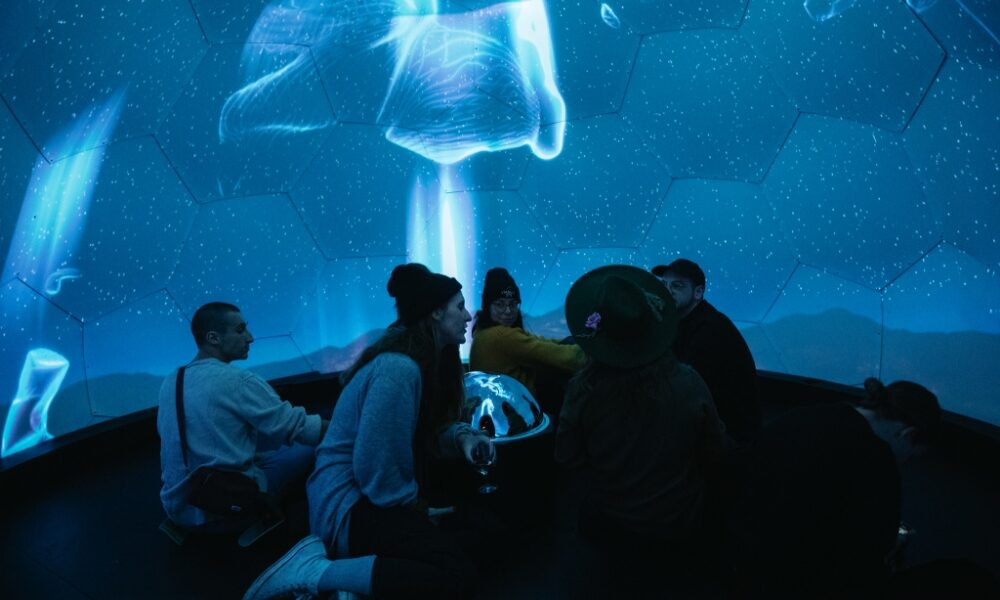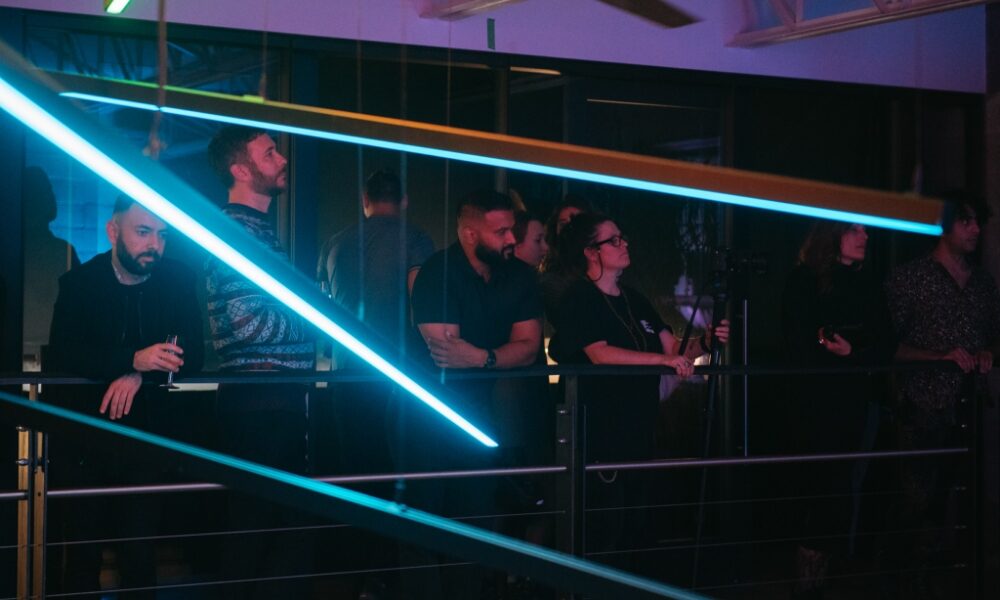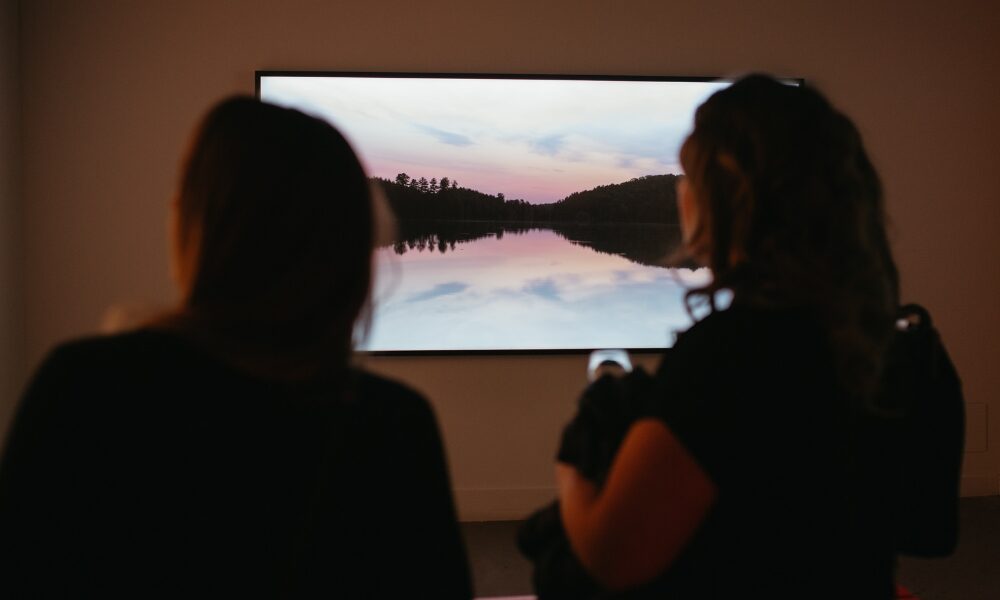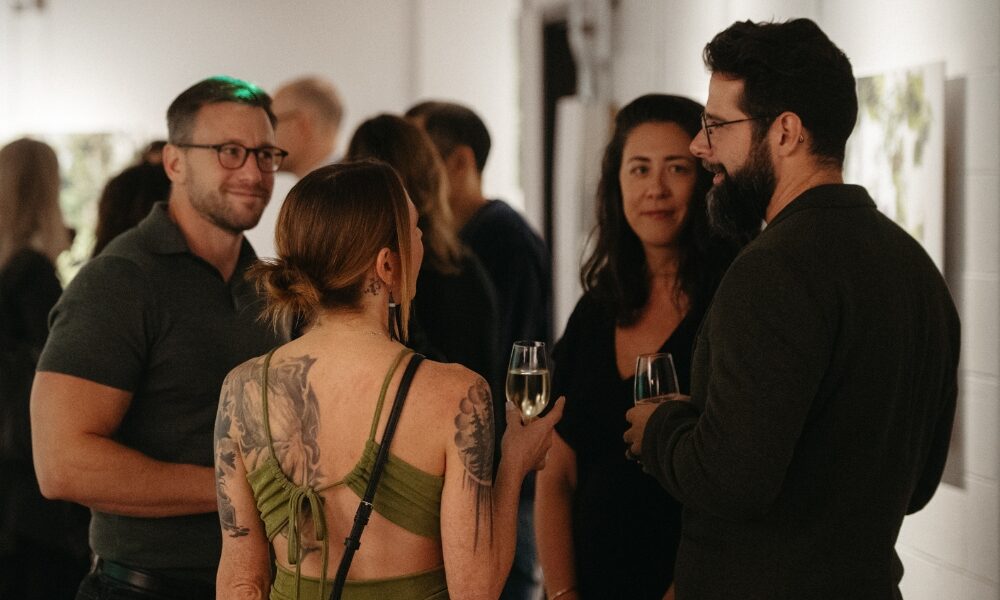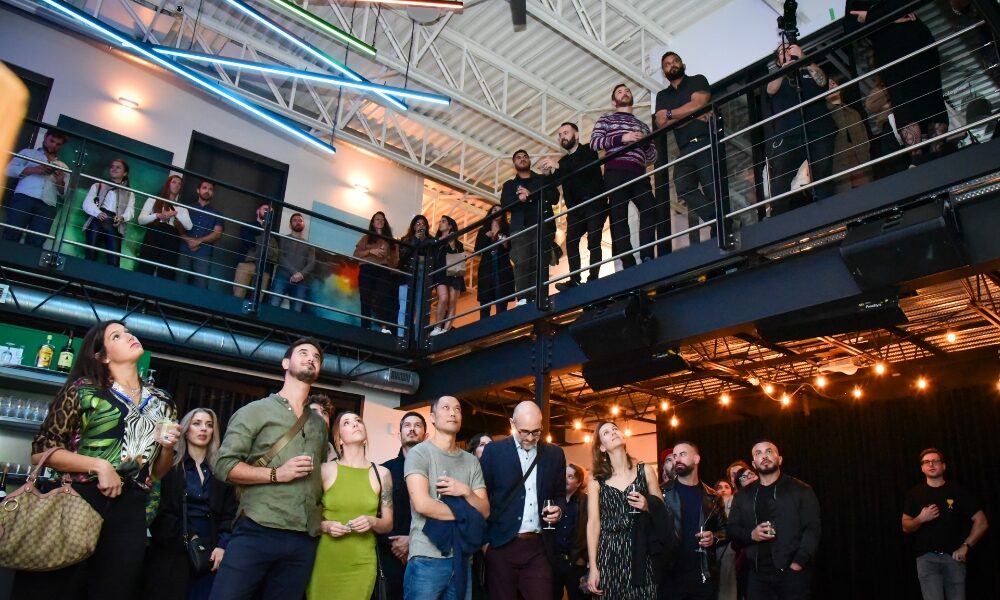 Fall/Winter 2022-2023 Exhibition
The Earth Centre opens its second exhibition for Fall/Winter 2022-2023 with seven new exhibits, building on a successful Spring/Summer 2022 season.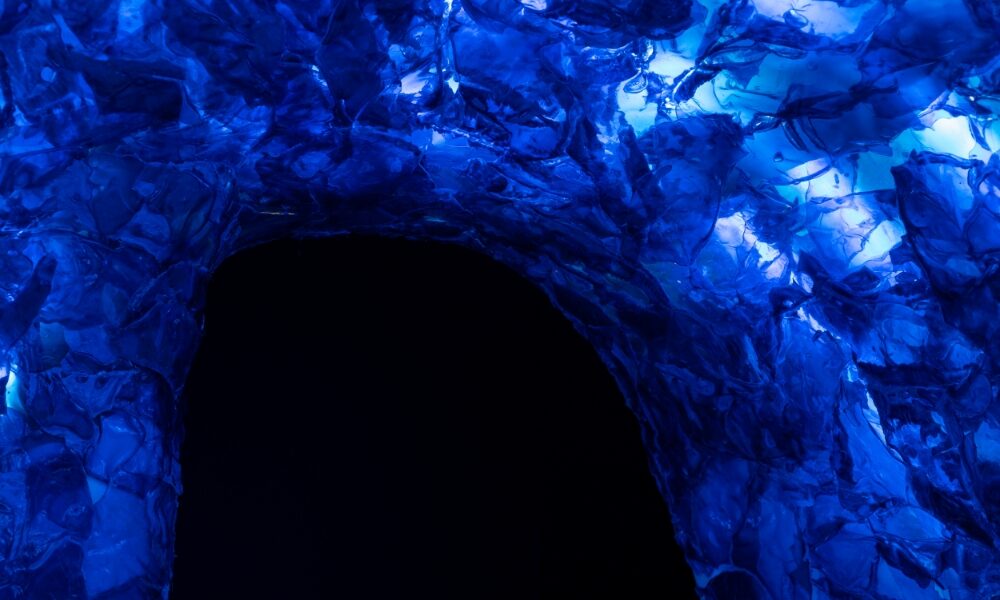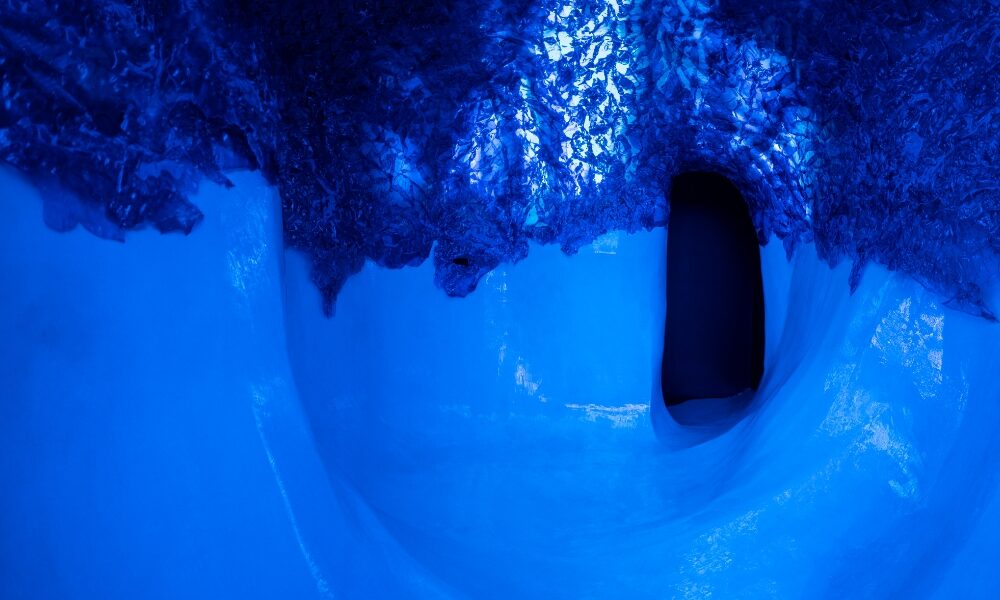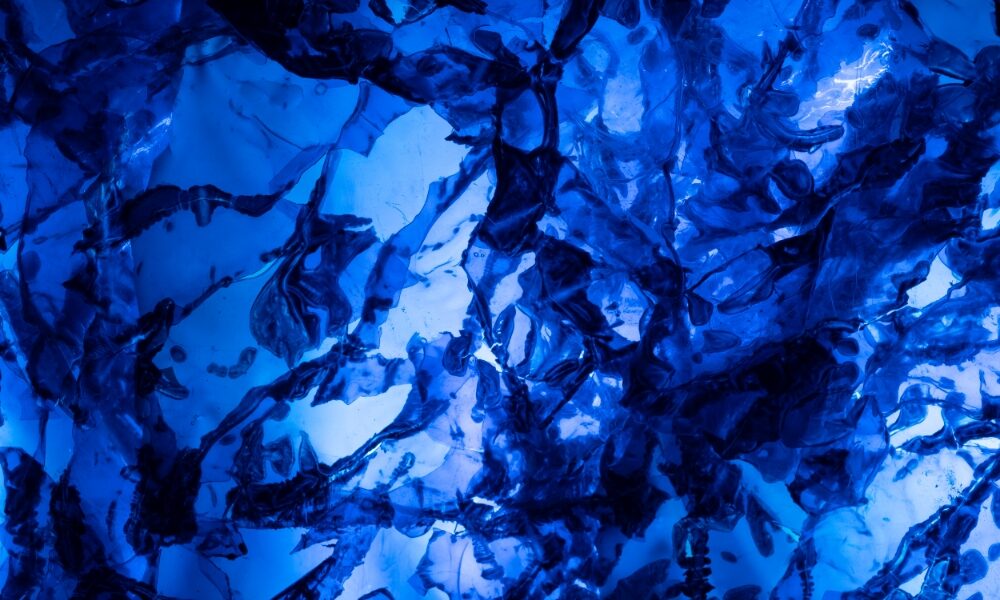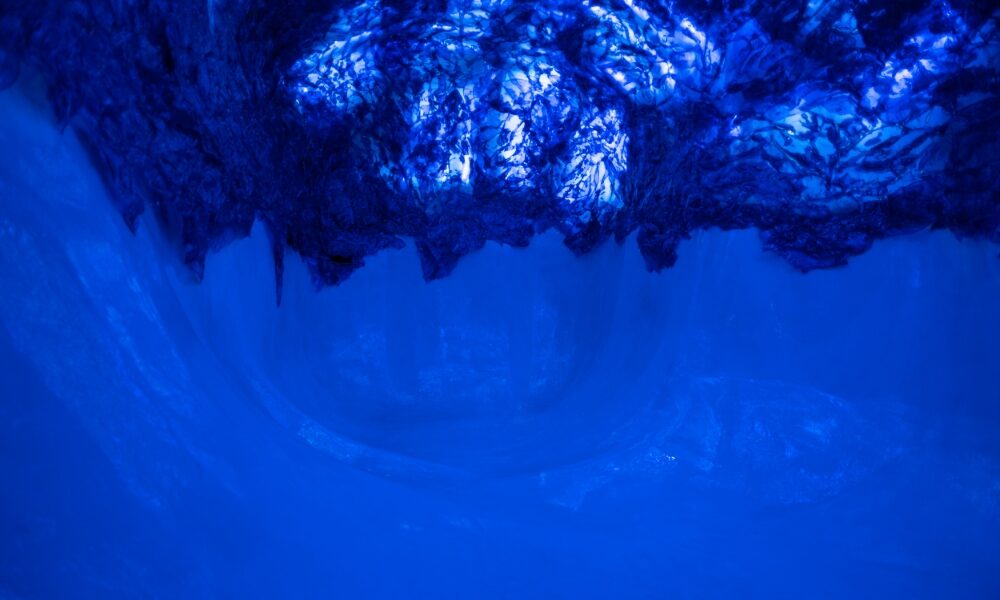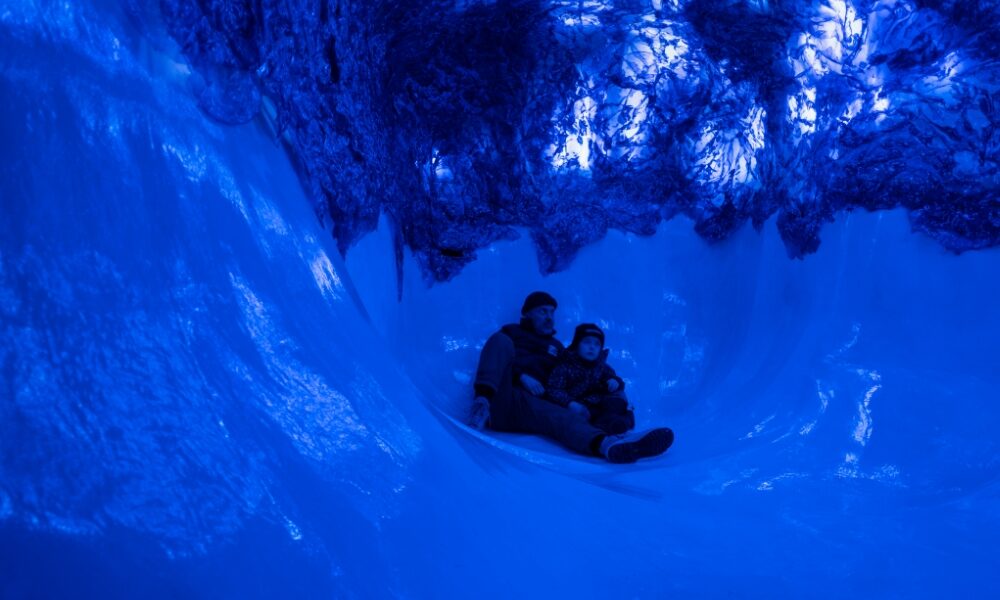 Glacier Cave
Kelly Nunes
Glacier Cave is an interactive installation that meditates on the questions surrounding our complex relationship to water — as a commodity and as a healer — and the ways in which plastic and ocean narratives are currently intertwined.
Fabricated with post-consumer plastic, Glacier Cave draws on the imagery of plastic refuse islands in the ocean, vis-a-vis our collective cognizance of the sacred value and mystic beauty of ancient ice.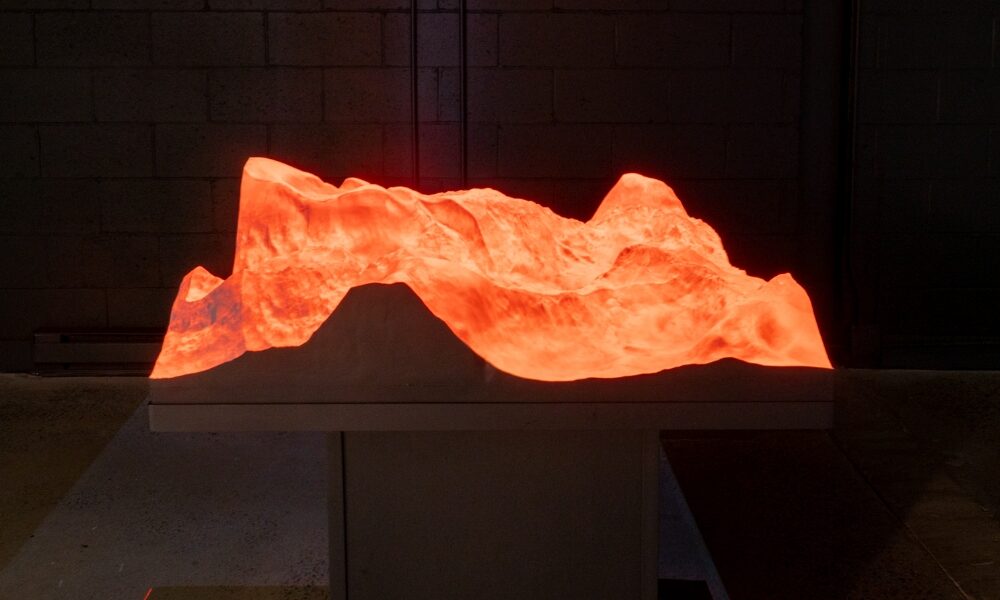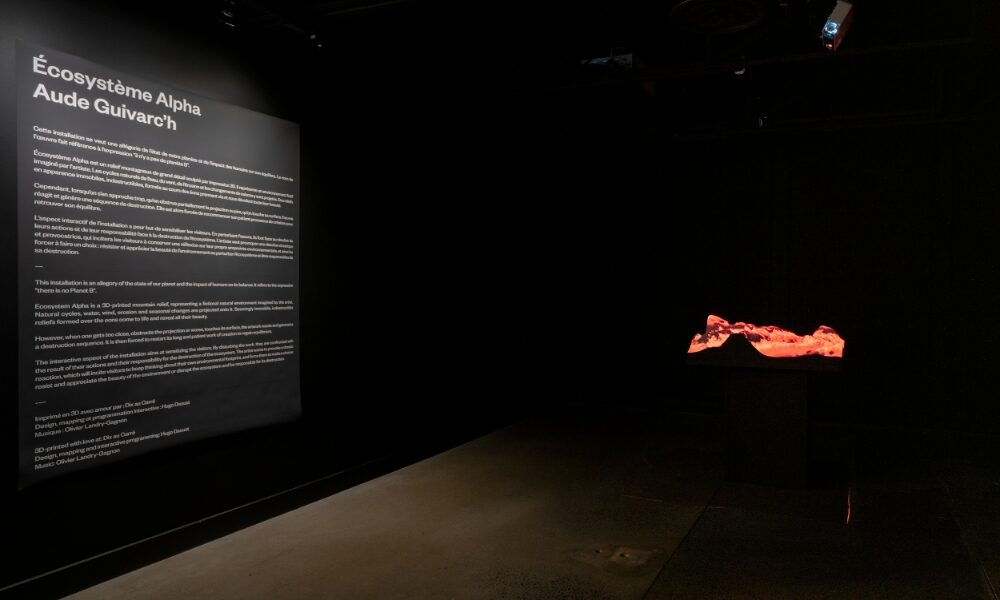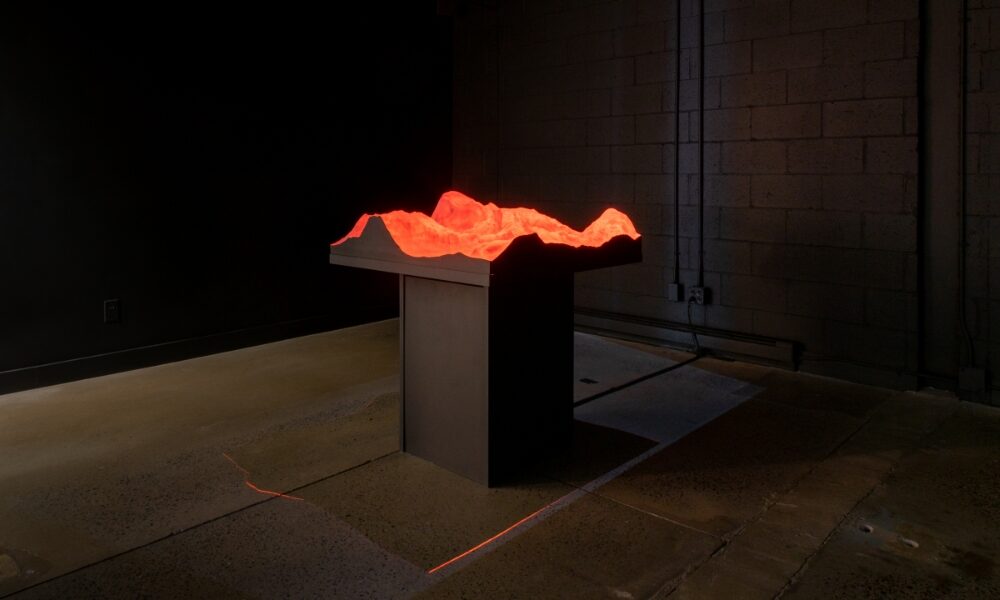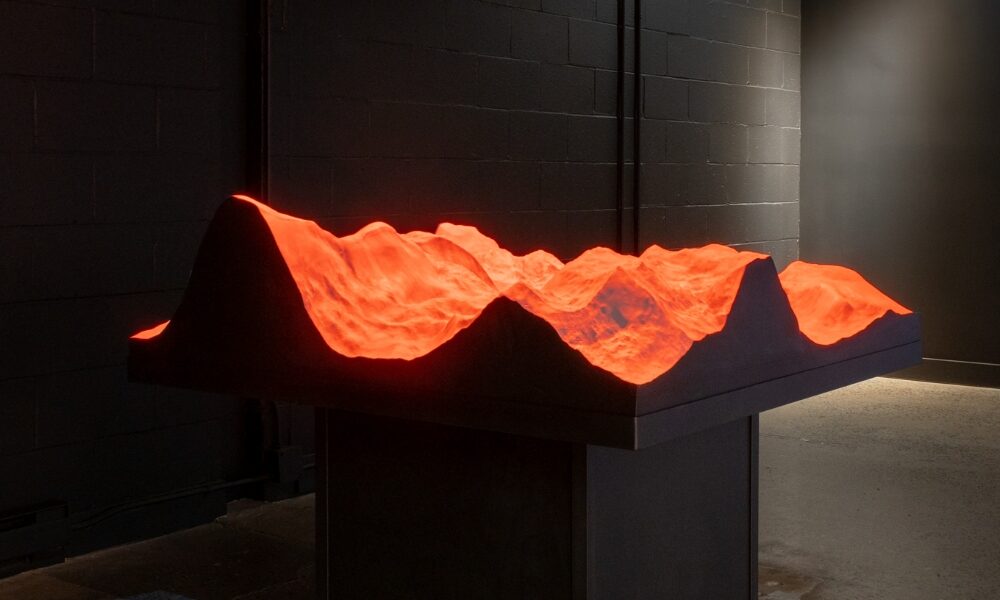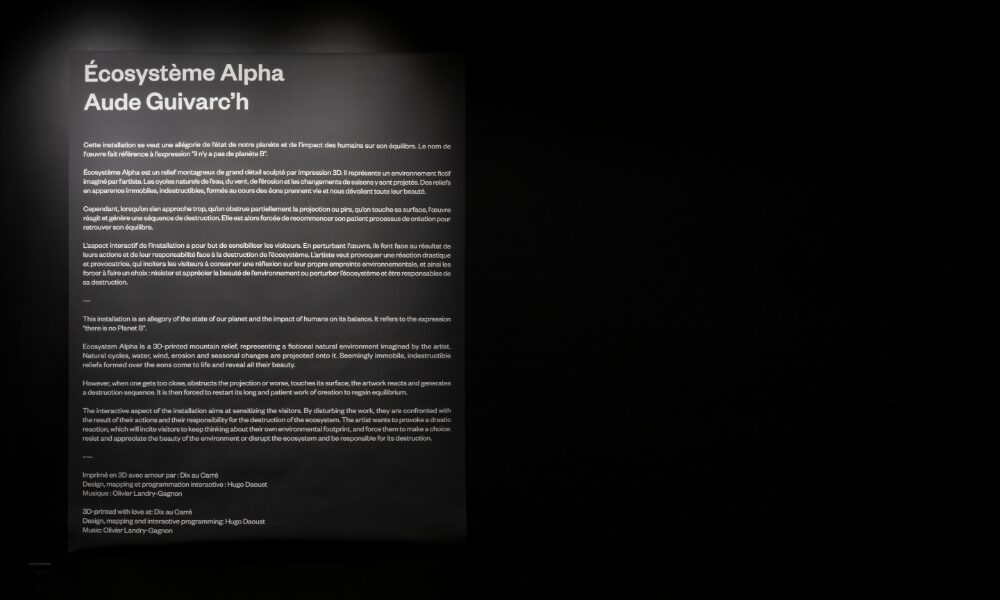 Écosystème Alpha

Aude Guivarc'h
The arcade is a wing of the Earth Centre that celebrates innovative design, technology, and creation while allowing visitors to learn about ecology and environmental sustainability. The first acquisition, Écosystème by Aude Guivarc'h, is an allegory of the state of our planet and the impact of humans on it. With a direct reference to the expression "There is no Planet B," the installation features a 3D-printed mountain relief with projections of natural cycles, water, wind, erosion, and seasonal changes. When one gets too close and obstructs the projection — or worse, touches its surface — the artwork reacts and generates a destruction sequence illustrating the human responsibility for environmental destruction.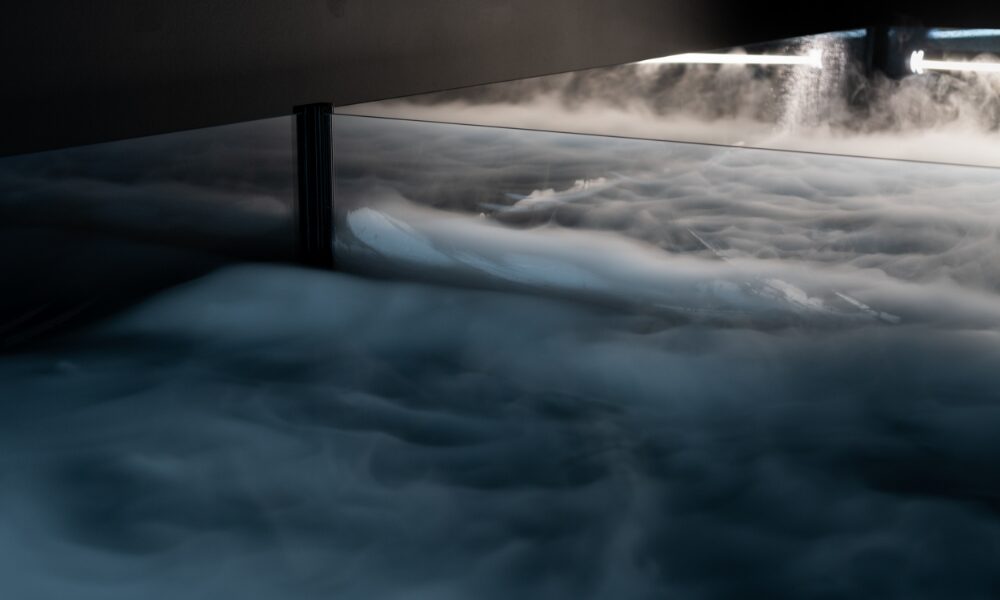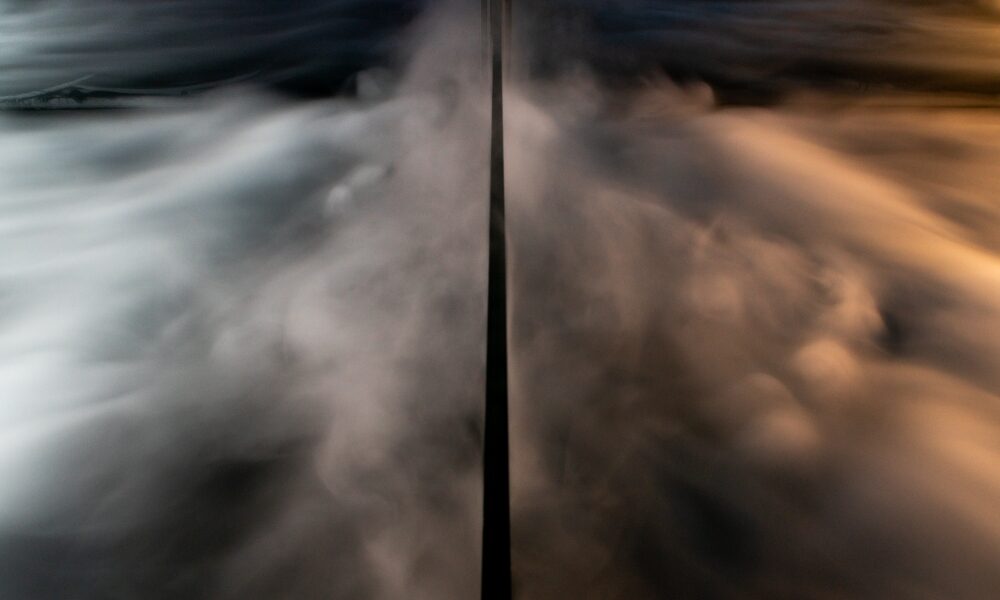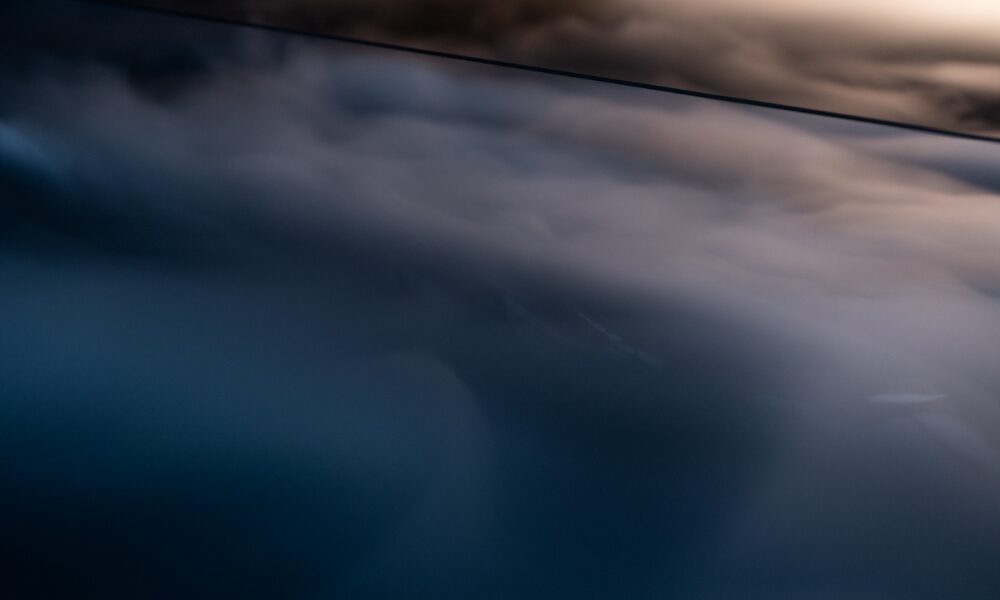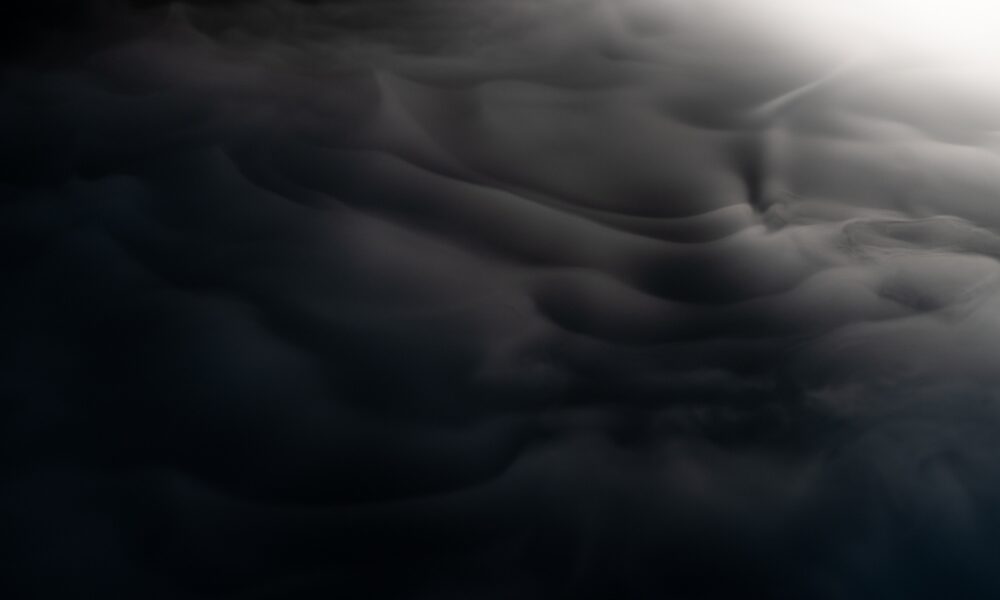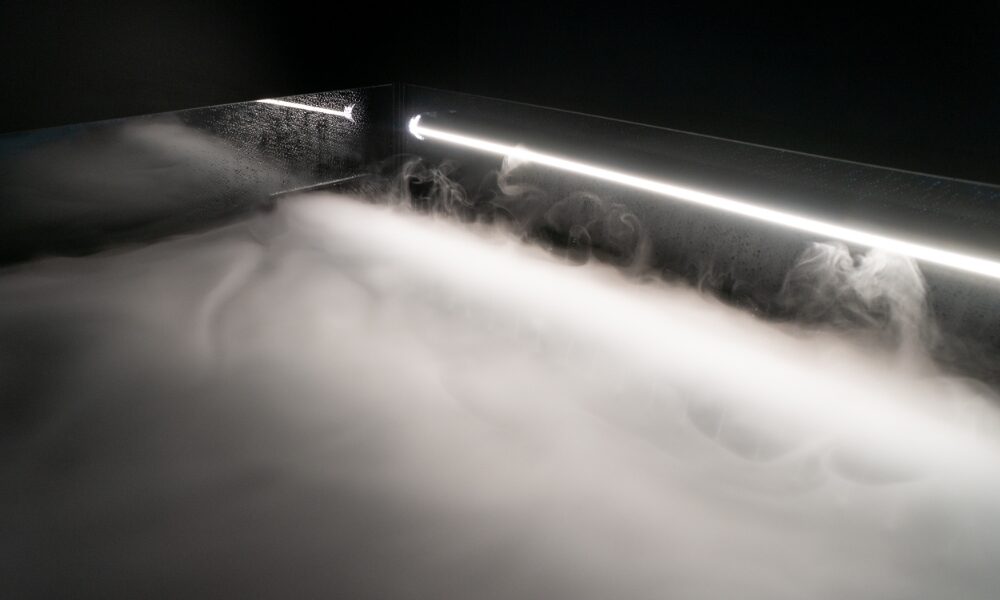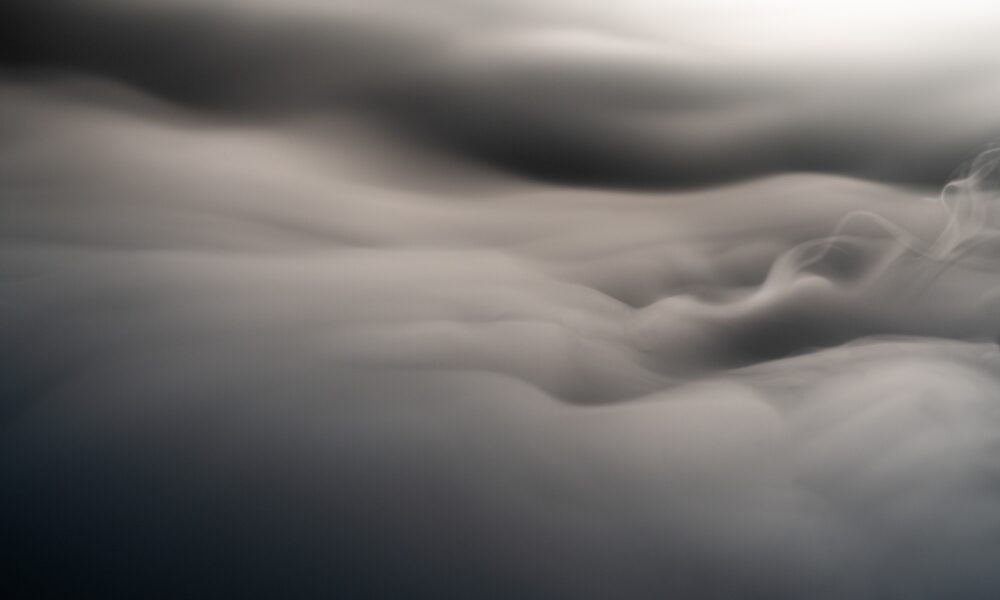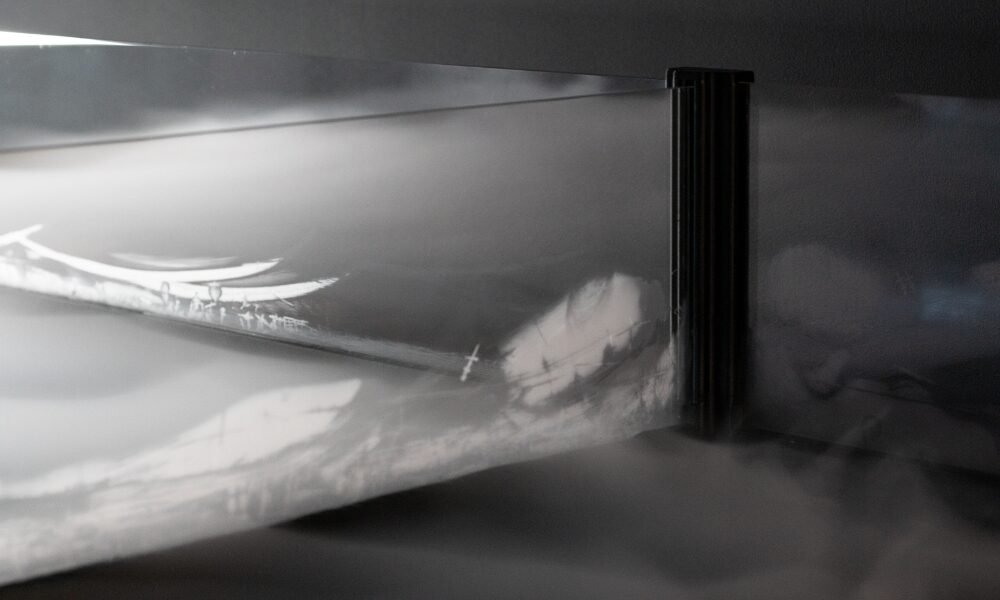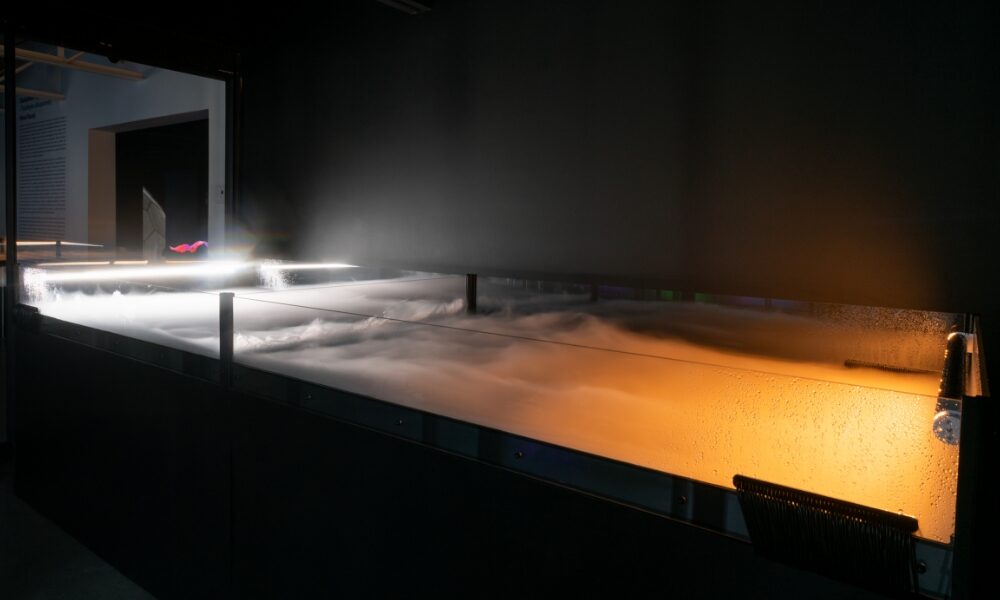 Dissipative Topologies
Nima Navab
Inspired by the inherent compositional richness and nuance of cloudscapes above us, Nima Navab embraces the transient atmospheric dynamics of water, air, and temperature to create ephemeral kinetic sculptures. Fusing electromechanical control with the inherently unstable nature of mist as the primary medium, Dissipative Topologies explores how slow and gentle changes in flow and temperature lead to biophilic patterns of a trans-meditative nature. The installation brings the perceiver into an intimate mode of observation, aiming to enrich the experience of the in-between: the liminal thresholds in phase-changing water from its liquid state in the reflective pool, tiny droplets forming into undulating standing waves and to its complete diffusion through convection.
Two identical containers, positioned side by side, hold water with forty degrees of difference. Mist rolls towards one another in a mirrored wave. Their delineations, at first distinct, meet in the centre; a gentle greeting that marks the beginning of a continuously morphing dance, where borders of waves slowly dissolve, and formations of mist organize around the conditions of each tank. In the cold tank, tight clustering of molecules yields slow, gradual shifts, a heaviness that fosters an uncanny sense of slowed time, transporting the perceiver into an ambient and buoyant atmosphere. In the heat, rapid evaporation creates visibly more chaotic motions and continuous entropic processes of dispersion. Counter to the dense, amorphous blanket in the cold tank, the heat breaks the uniform wave apart, generating convection cells with hexagonal edges rising in a flame-like manner. The mirroring of these similar yet disparate cloud environments highlights the inherent performative qualities found in transformative states of matter, the sublime beauty of thermodynamic agencies theatricalized with dramatic lighting.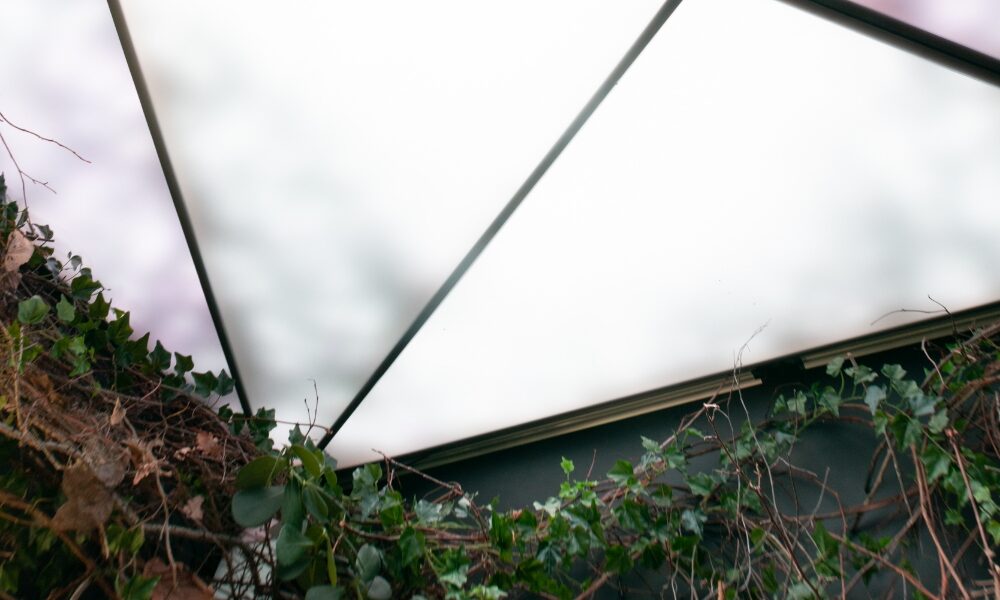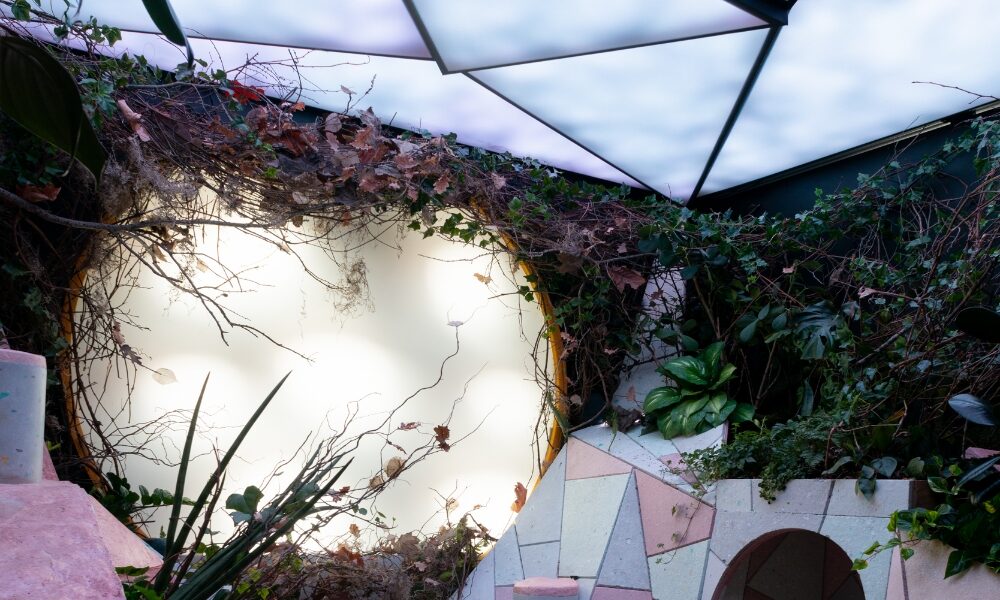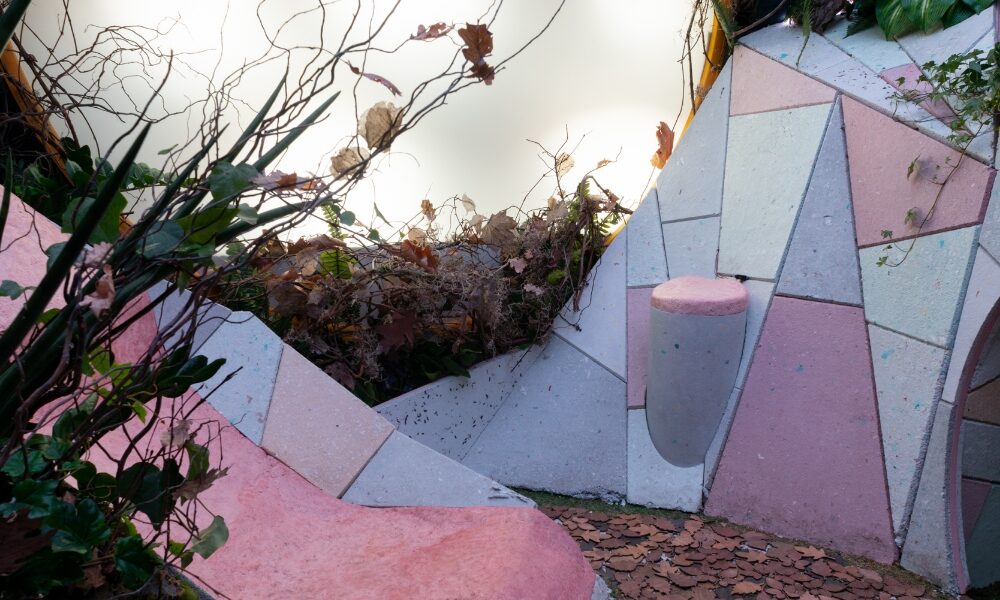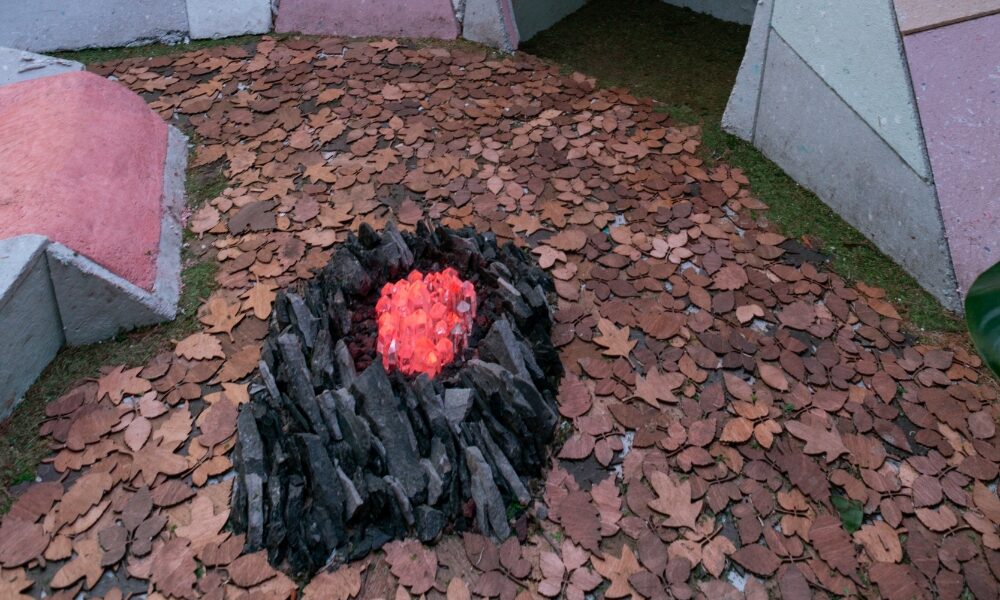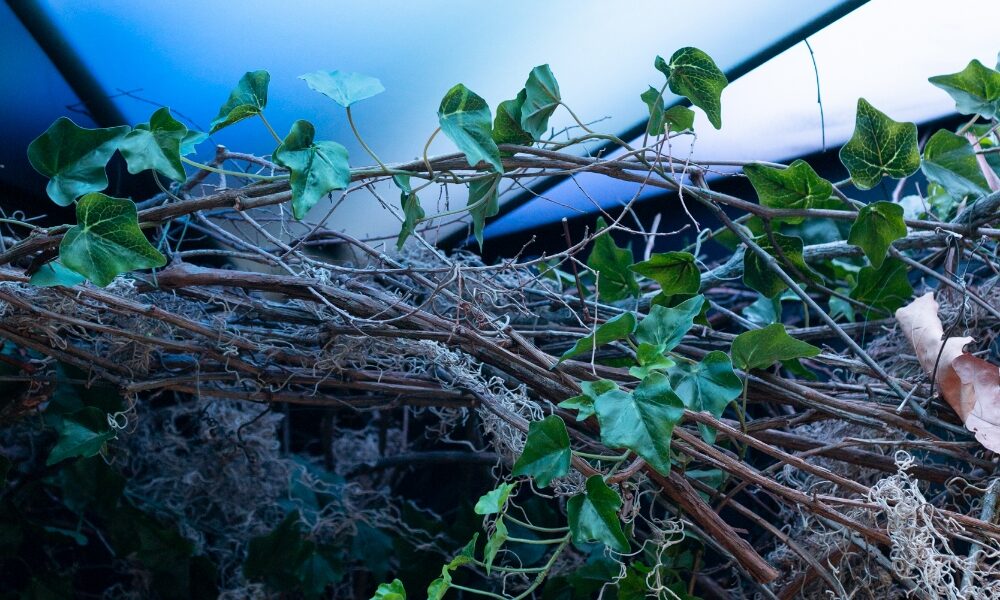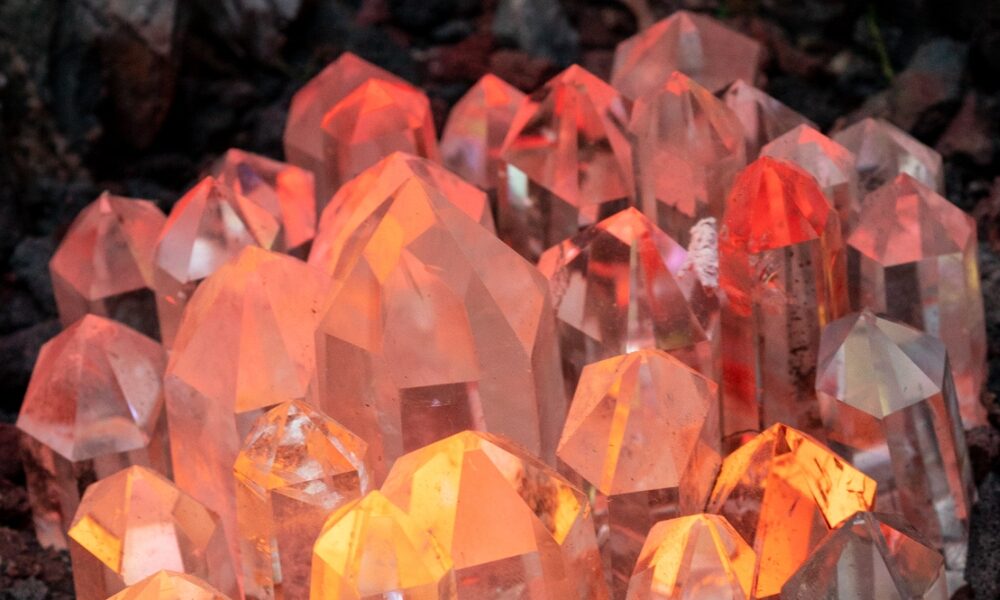 Earth Room
Kelly Nunes and Nico Fonseca
Earth Room, a permanent interactive multimedia installation by Nico Fonseca and Kelly Nunes, explores the ways in which we relate to different facets of nature. From the iron crystals at the heart of the Earth's core to the solar winds that dance through the geomagnetic field, suspended in the balance are all life forms. The Earth Room is a space of myriad scale, where visitors assume the pose of earthly creatures, and have their perspectives filtered through teeming vegetation, light, and sound.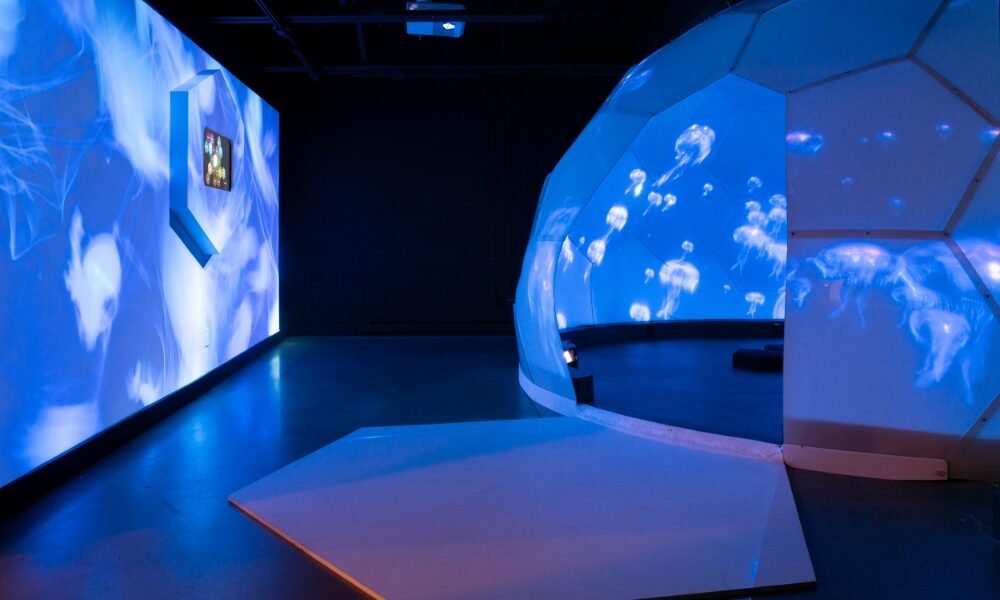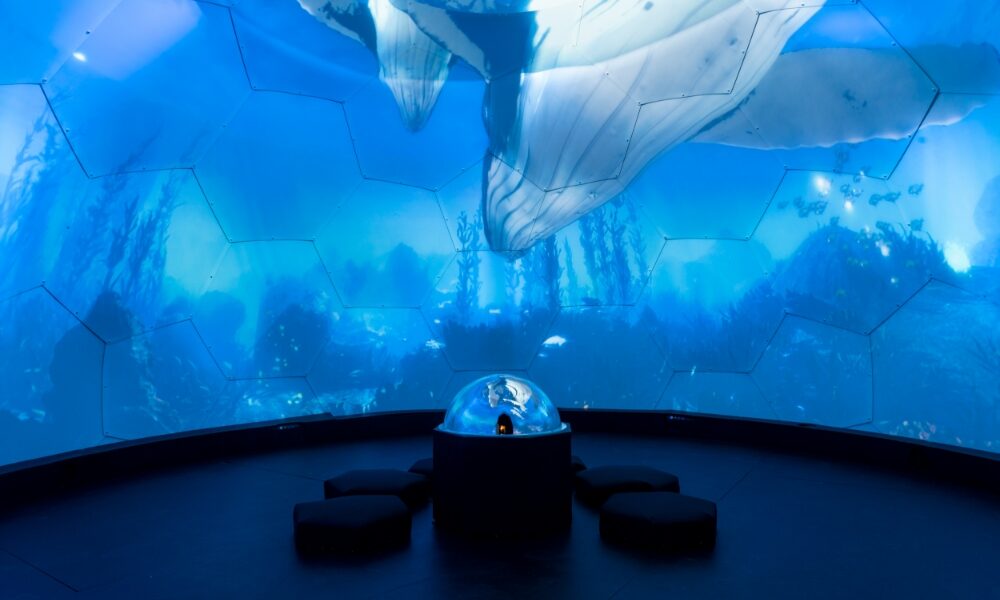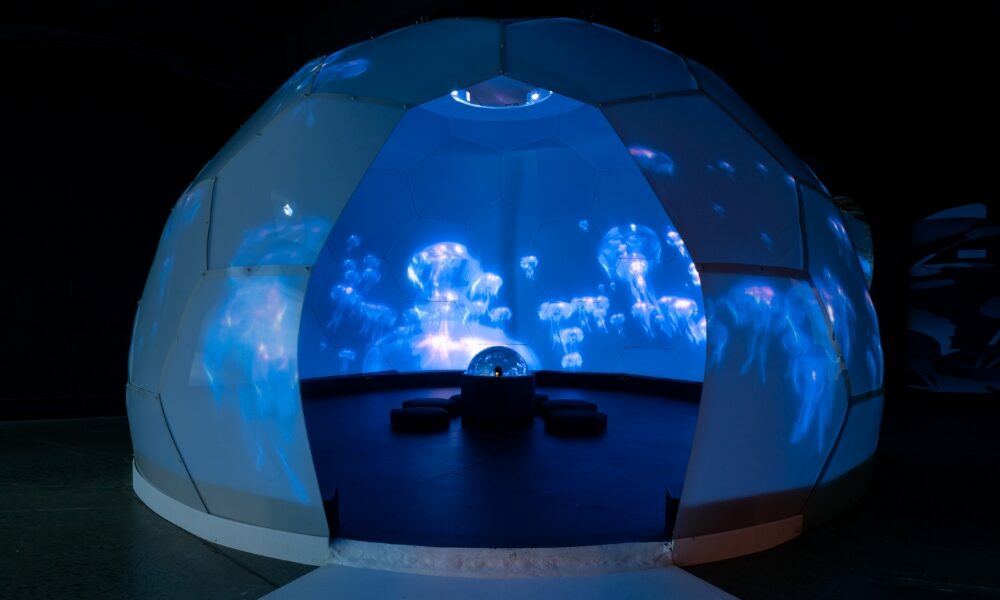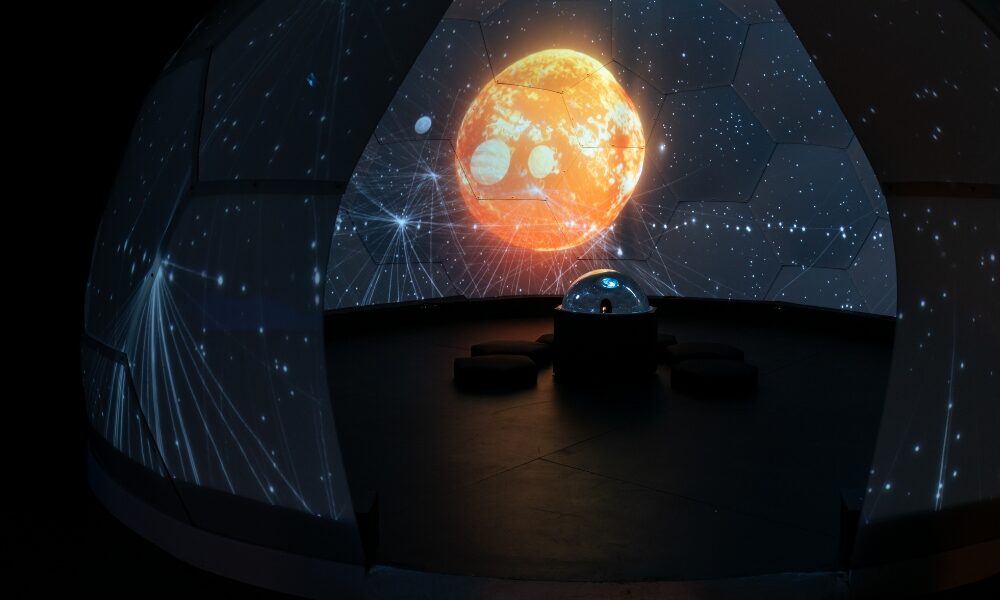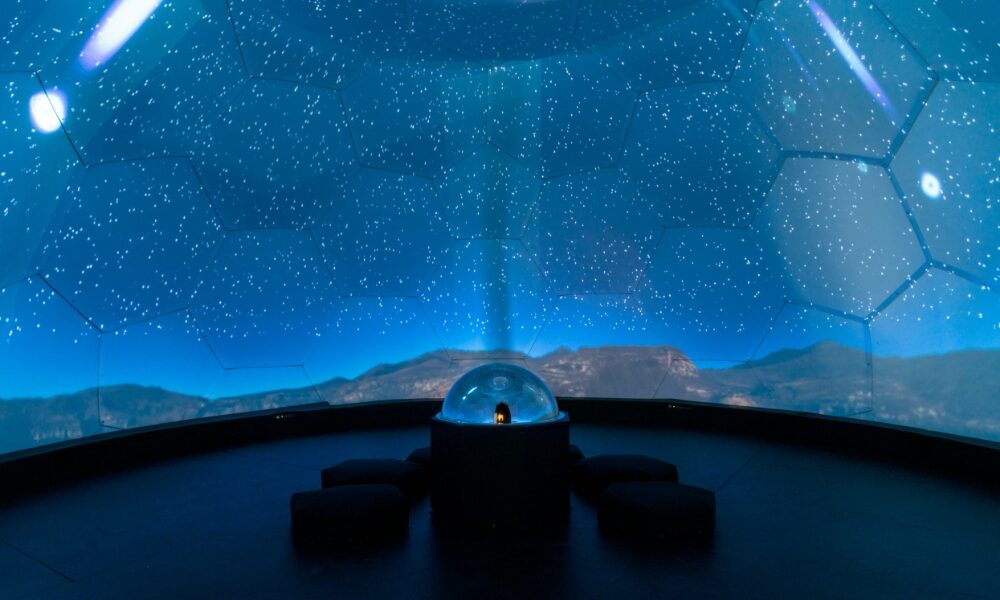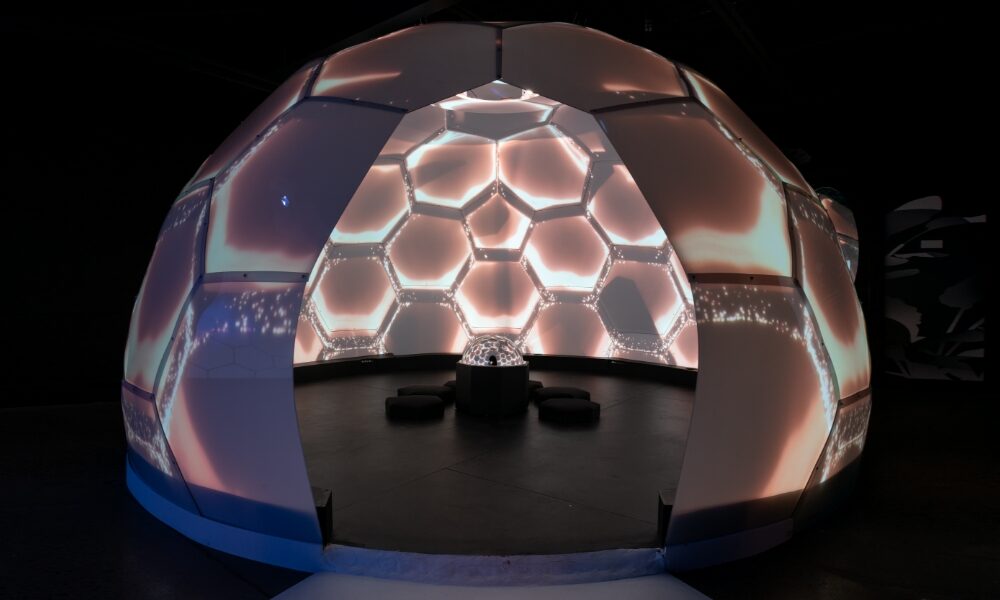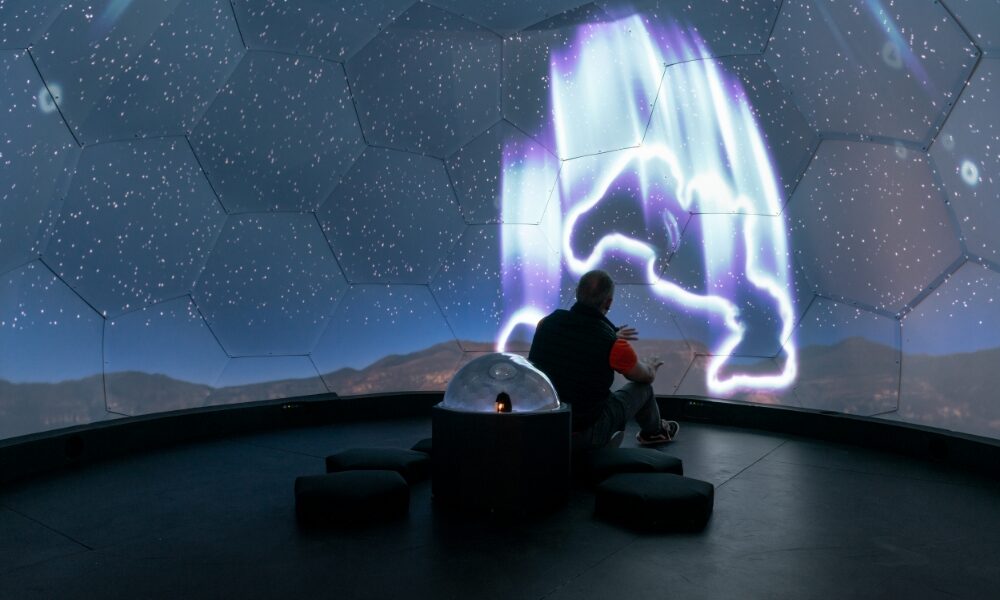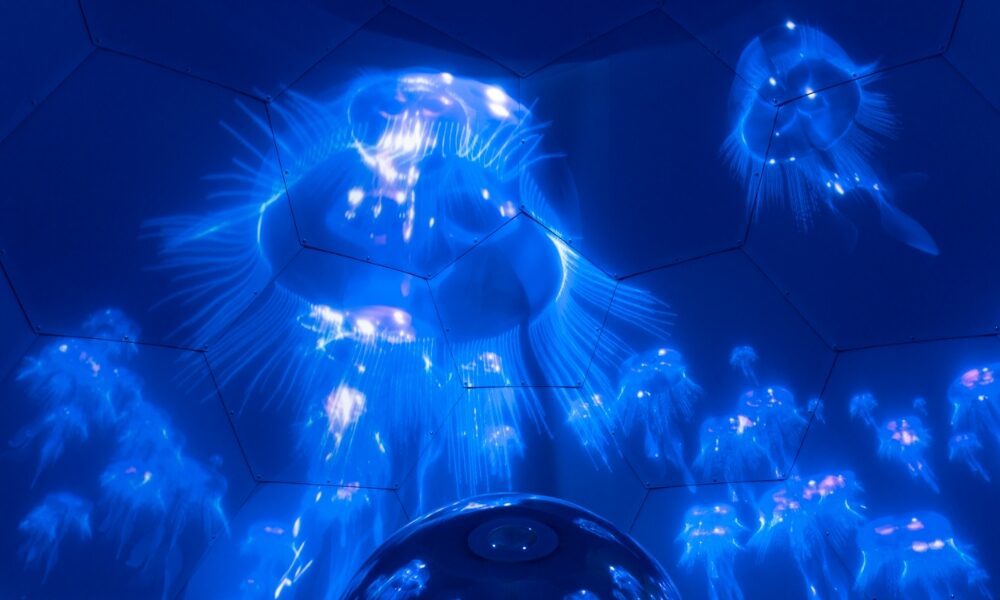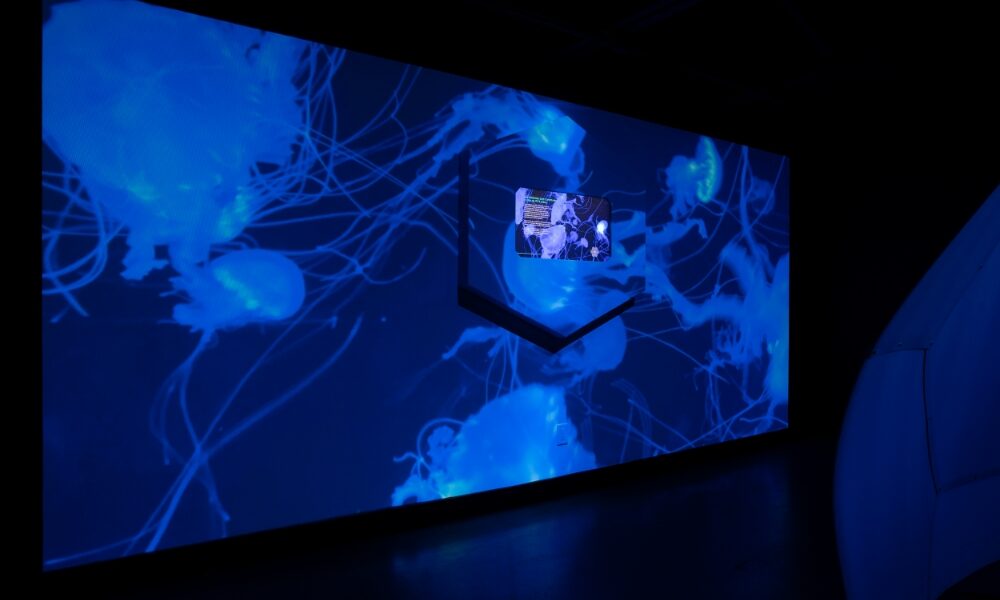 The Hive
Eden Creative Studio
The Hive is an immersive & interactive dome installation allowing visitors to experience nature intimately. An immersive 360° interactive experience taking place within a semi-transparent dome, the piece reveals a full day's cycle of activity — a micro-to-macro-scale adventure.
From the outside, The Hive looks like a cocoon, welcoming each visitor to enter. Upon entry, a feeling of warmth and envelopment encourages audiences to sit and contemplate a meditative state of life. Just like a fetus in a womb, droning soundscapes prepare them for a journey where nature's secrets unfold.
Using their hands, participants are able to learn about honeybees' ways to communicate, interact with different species of our oceans, travel through our galaxy, and dive into natural phenomena like the aurora borealis and hurricanes to create and discover in collaboration with each other in an immersive and intuitive visual experience.
As an allegory of nature's richness, they discover the fascinating aspects of our planet. Visitors are transported through different environments and ecosystems, simulated in real-time in a full 360° experience of wonders and interactive discoveries, reminding us that we are all a connected part of a global tribe, affected by nature's beauty and fragility.
The piece is an attempt to evoke the environmental emergency within a playful, spectacular and collaborative experience. While learning and provoking curiosity, participants work together to explore different realities from a diversity of species' points of view.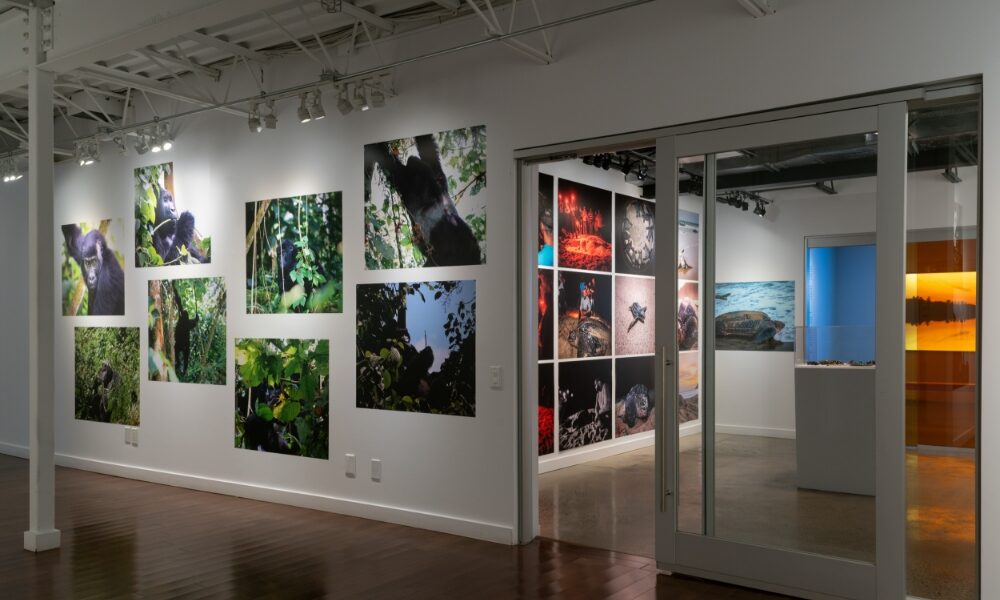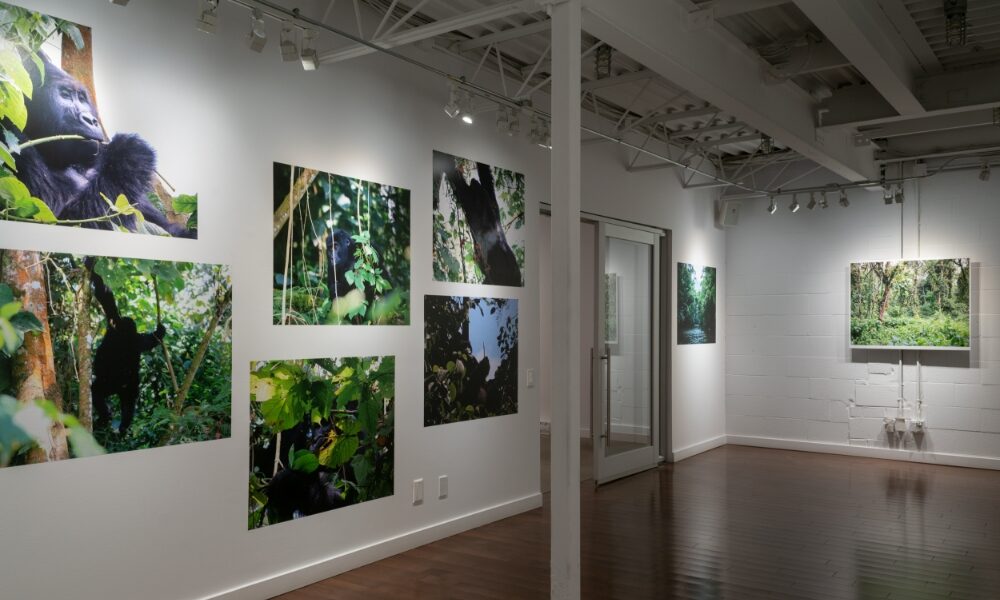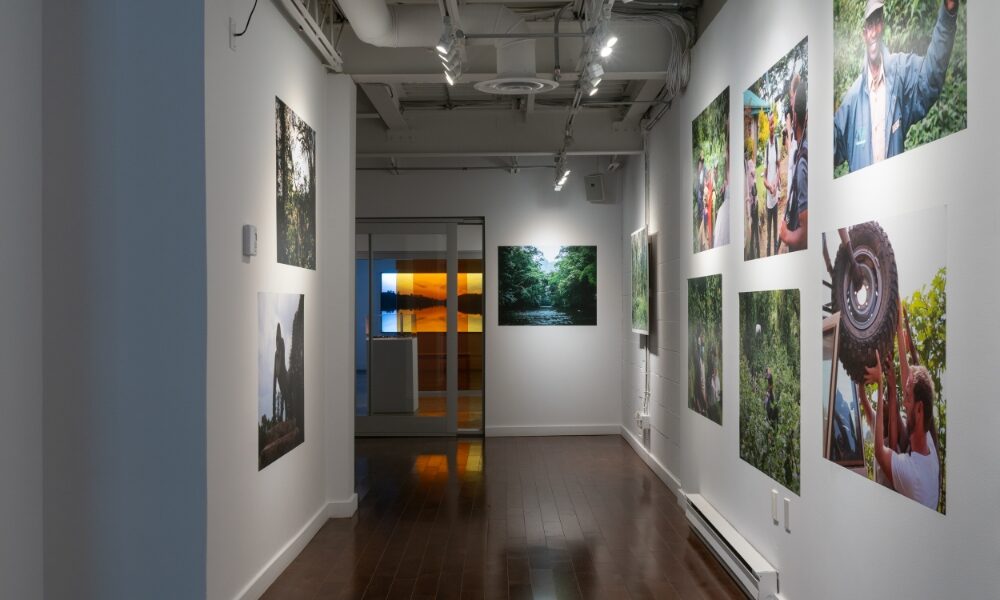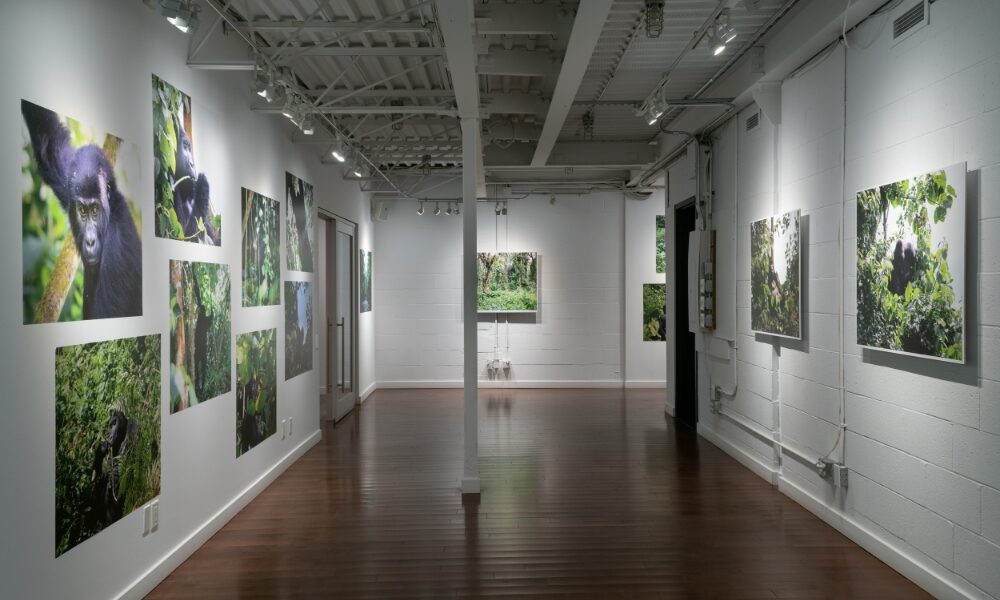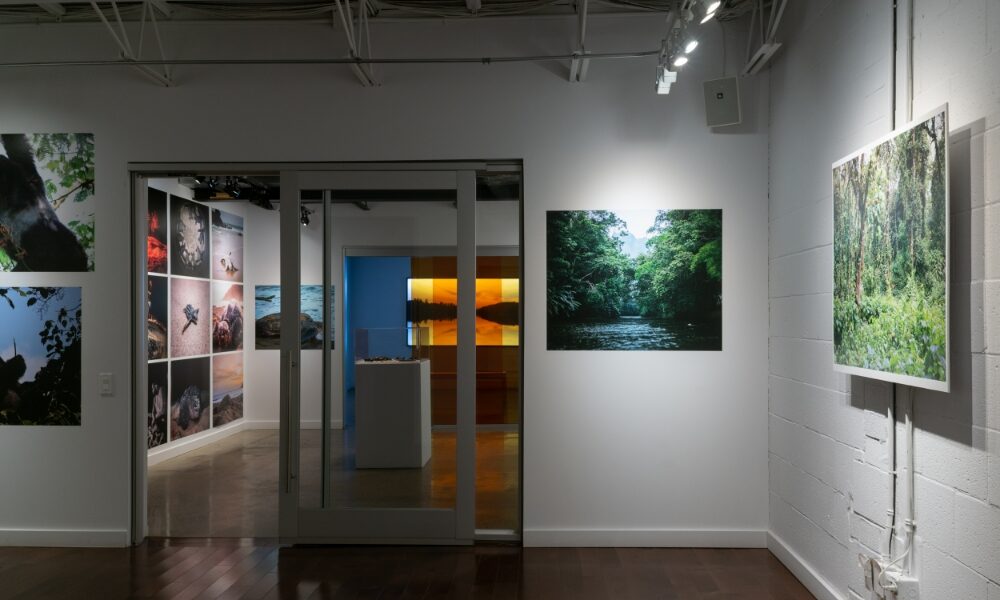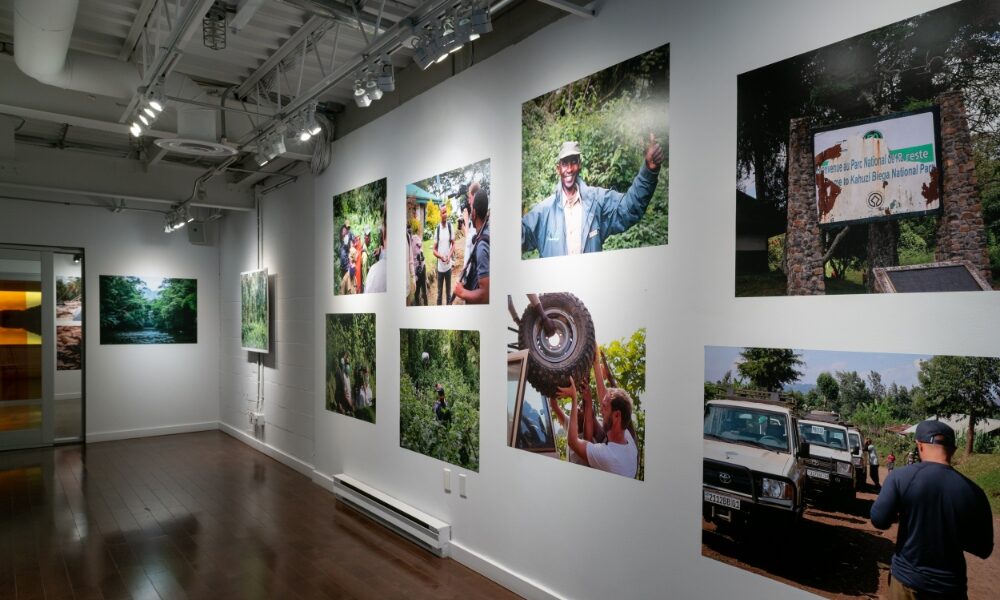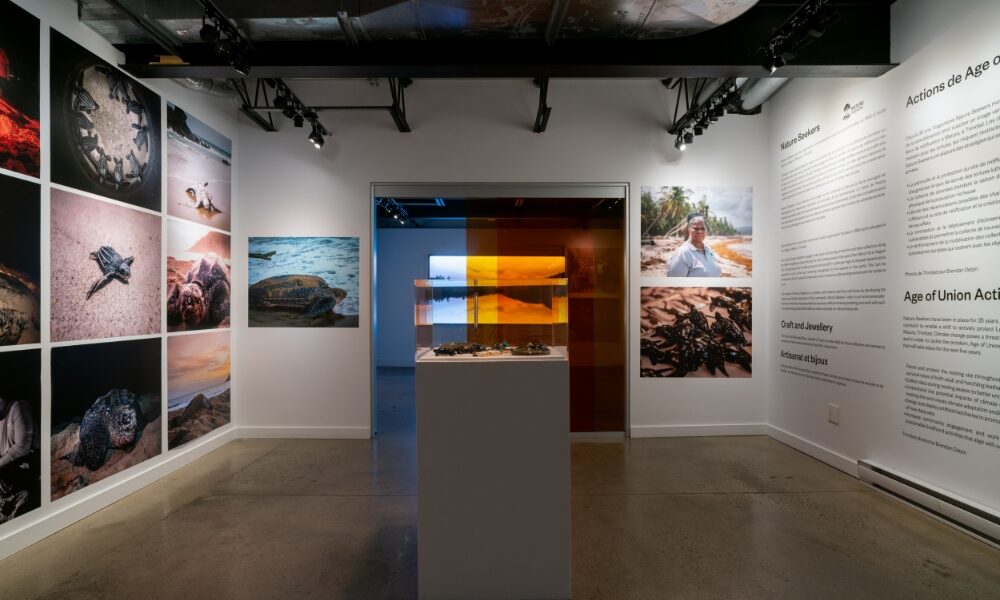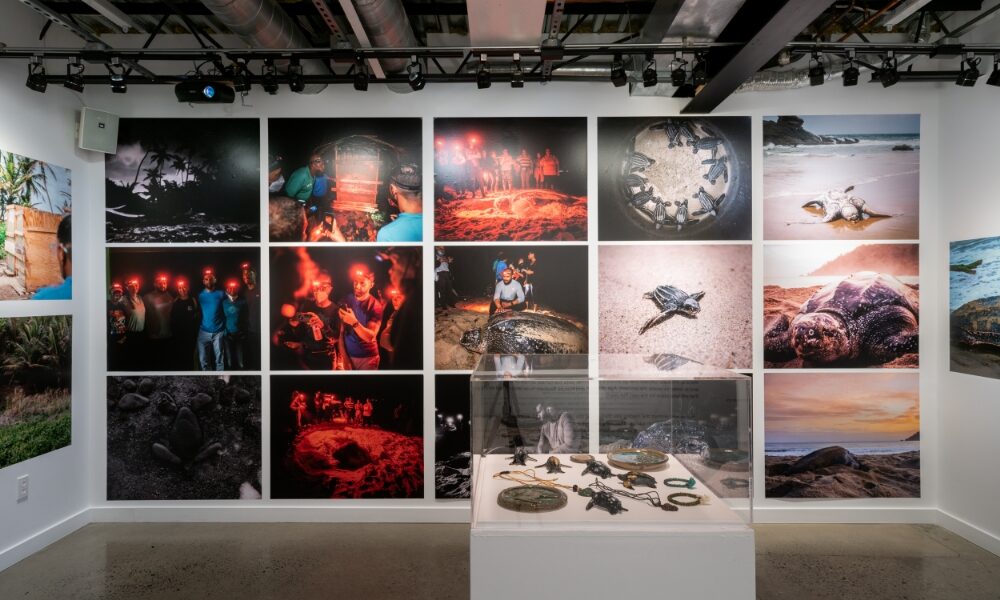 Age of Union: Mega Fauna
Forest Health Alliance – Photos by Matt Brunette
Nature Seekers – Photos by Brendan Delzin
For Age of Union's second exhibition, we explore the worlds of the gentle giants of Trinidad and the Democratic Republic of Congo. Our team visited Nature Seekers in Trinidad to help preserve the prehistoric and threatened Leatherback Turtle and with Forest Health Alliance and Strong Roots Congo. The visit resulted in a partnership aiming to protect the future of the endangered Eastern Lowland Gorilla.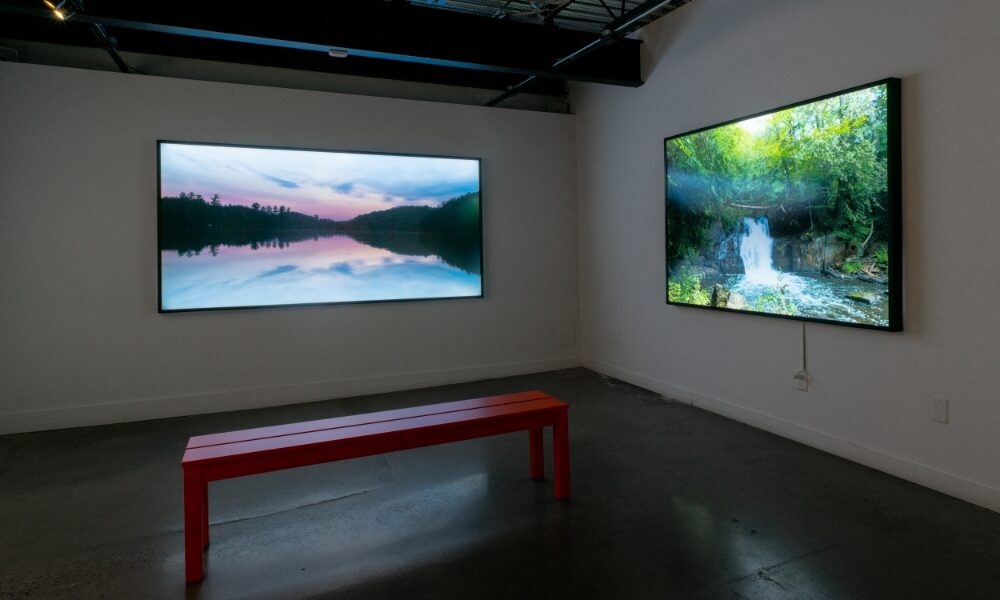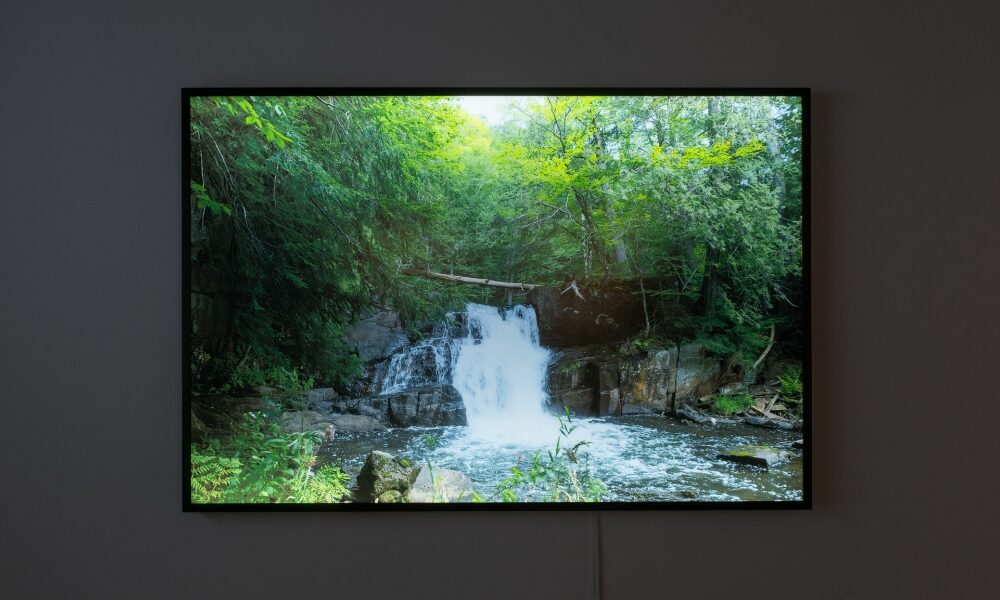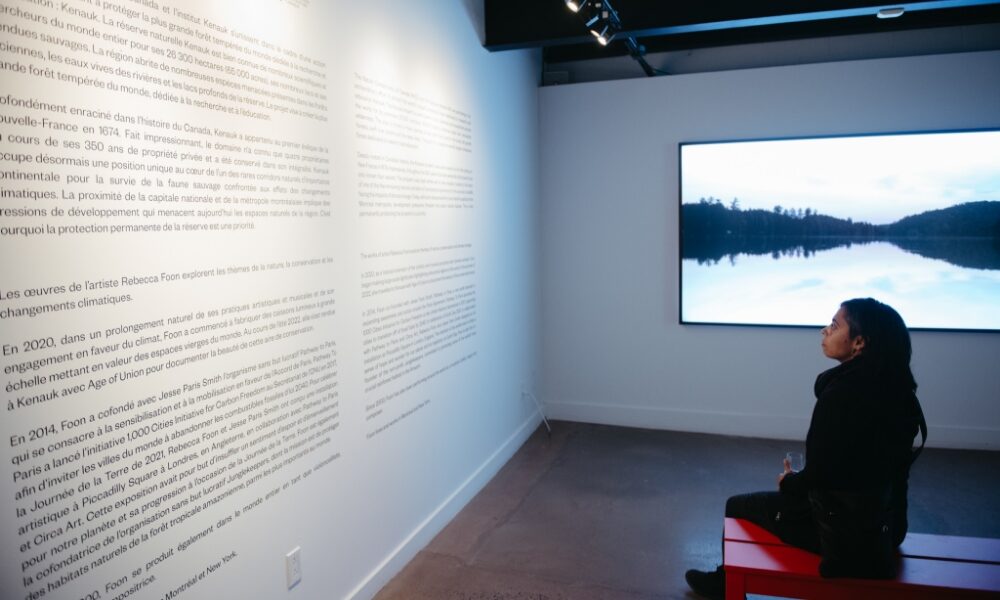 Kenauk Lightboxes
Rebecca Foon
The Nature Conservancy of Canada (NCC) and the Kenauk Institute (KI) are partnering in an extraordinary effort to protect the world's largest temperate forest dedicated to research and education: Kenauk. The Kenauk property is well known to many scientists and researchers around the world for its extensive 26,300 hectares (65,000 acres), numerous lakes and untouched wilderness. The area is home to many species at risk, which are found in the area's old growth forests, swift river waters and the deep lakes. The goal is to create the world's largest temperate forest dedicated to research and education.
Deeply rooted in Canadian history, the Kenauk property was once owned by the first bishop of New France in 1674. Impressively, throughout the 350 years of private ownership, this property has only known four owners. The property was kept whole and is now uniquely located in the heart of one of the few remaining natural corridors of continental importance for the survival of wildlife facing the impacts of climate change. Today, with such close proximity to our nation's capital and the Montreal metropolis, development pressures threaten the area's natural spaces. This is why permanently protecting the property is a priority.
Age of Union Actions
Age of Union is supporting the Kenauk project with a $3 million dollar pledge over the next three years, helping the Kenauk Institute grow its research and education programs on the protected territory and contributing to the long-term preservation of the land.
The works of artist Rebecca Foon explore themes of nature, conservation, and climate change.
In 2020, as a natural extension of her artistic and musical practices with climate activism, Foon began making large-scale lightboxes highlighting untouched regions of the world. In the summer of 2022, she travelled to Kenauk with Age of Union to document the beauty of the conservation area.
Spring/Summer 2022 Exhibition
The Earth Centre's inaugural season marked a new chapter in the history of Age of Union with a range of captivating exhibitions and interactive installations, leaving visitors with a renewed appreciation for the beauty of our planet and an understanding of the urgent need for collective action.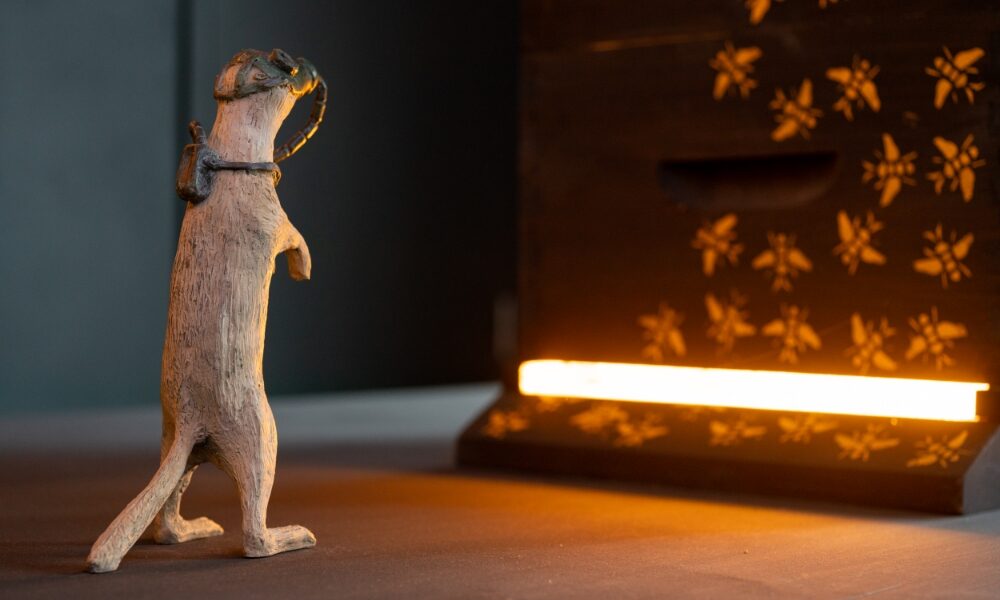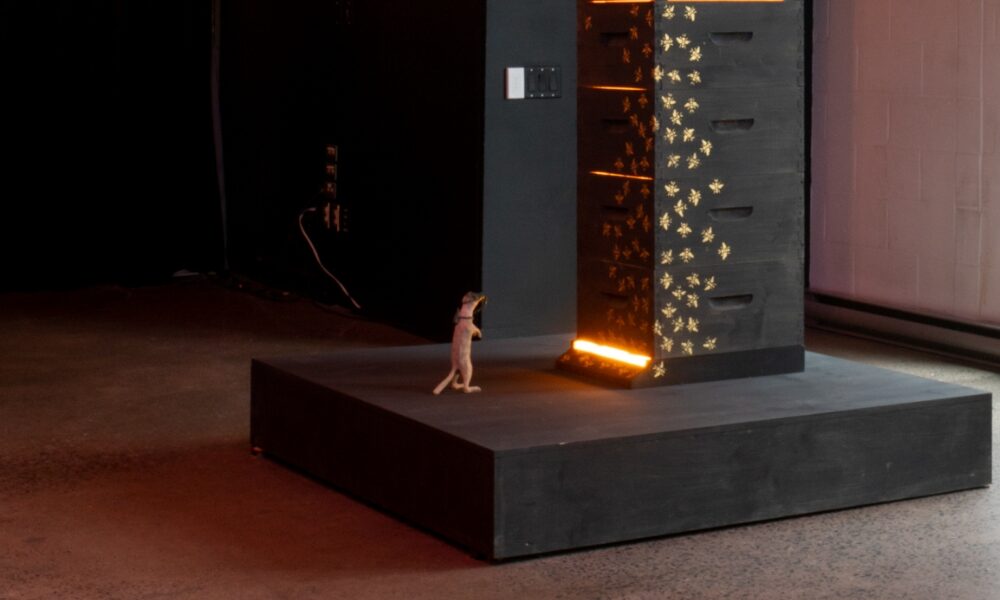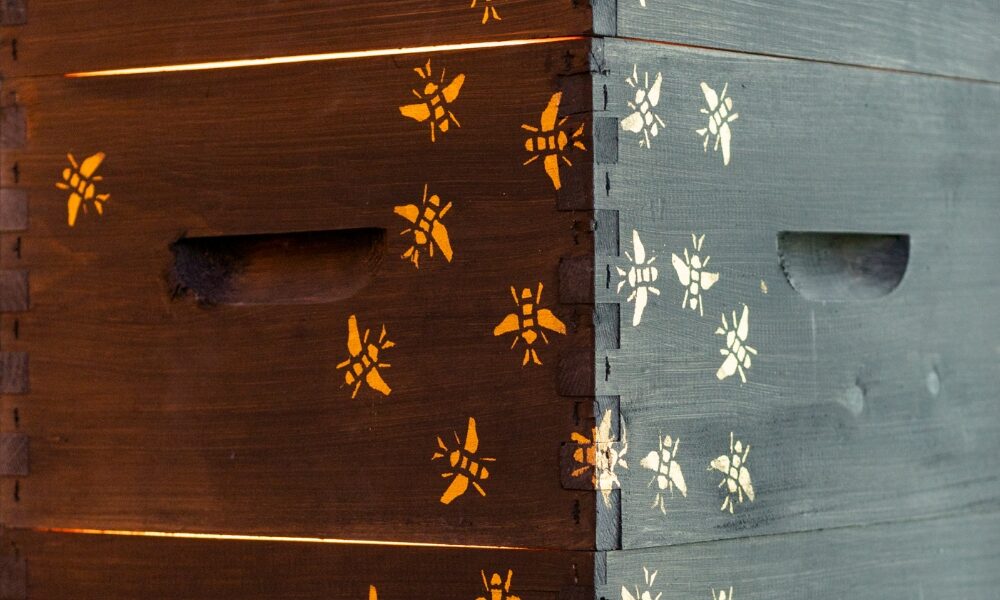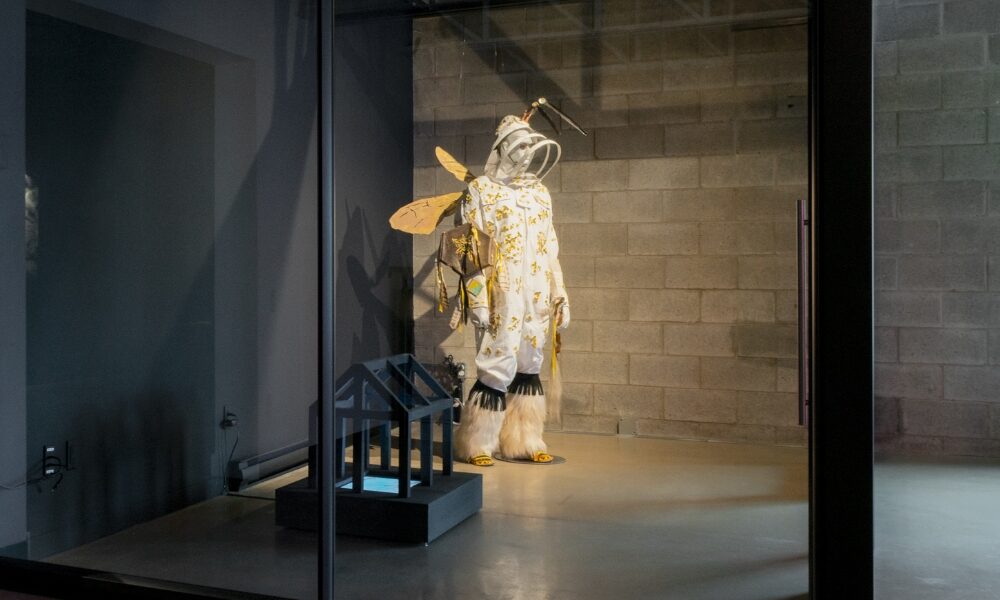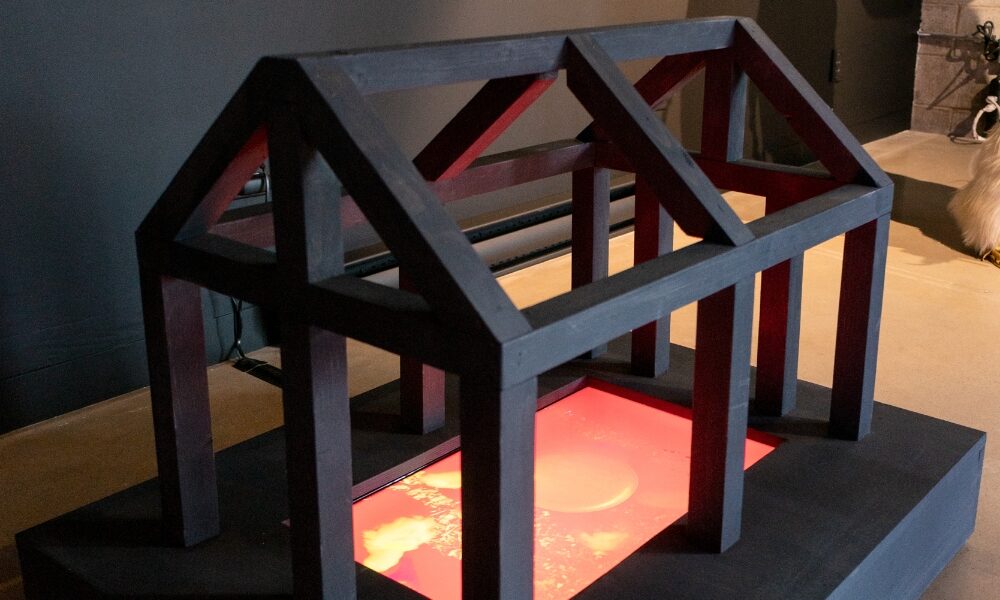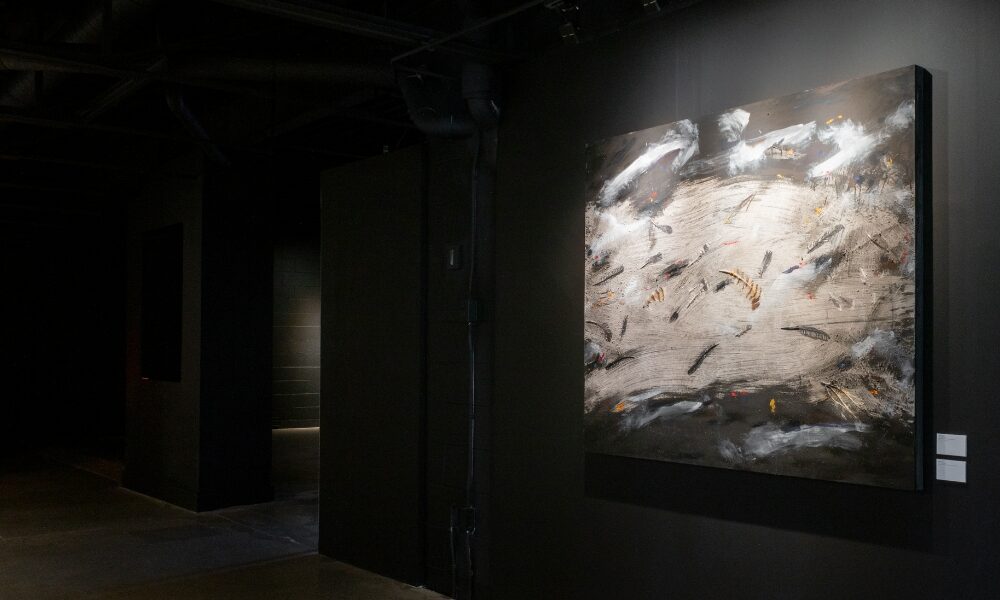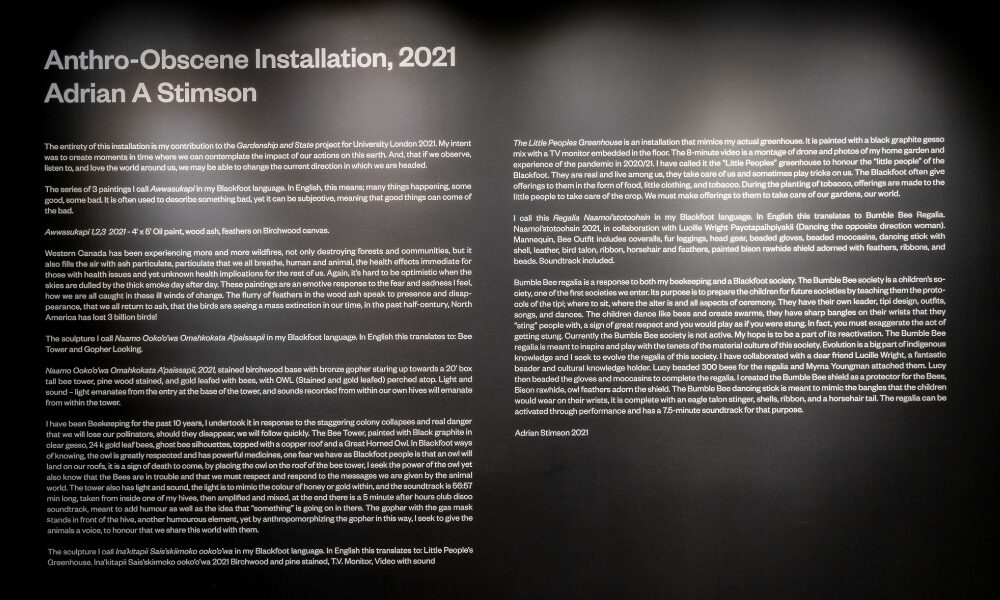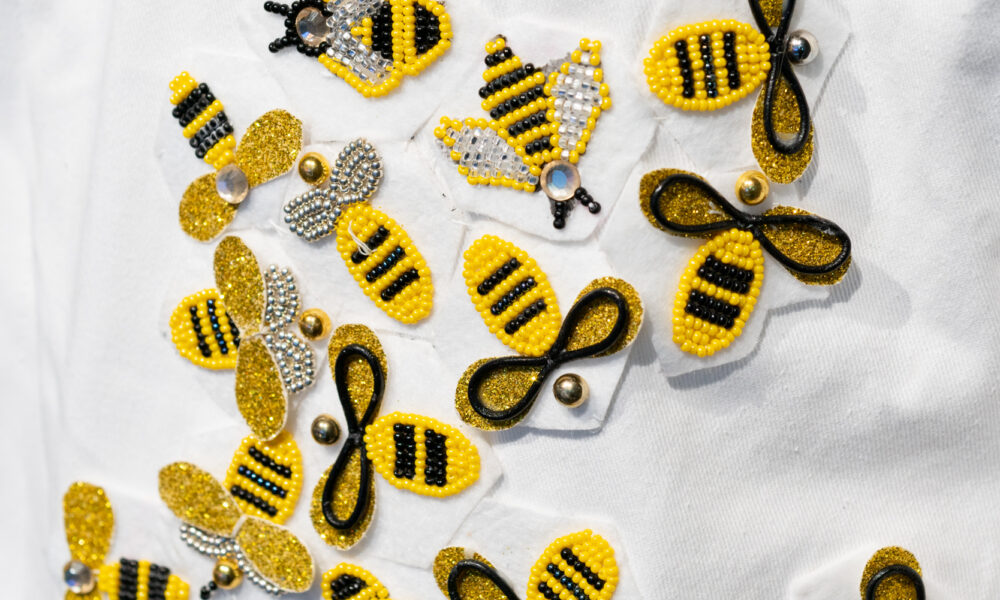 Anthro-Obscene Installation 2021
Adrian A. Stimson
With three paintings made with oil paint, wood ash, and feathers on Birchwood canvas, this series represents the recent Western Canada wildfires destroying forests, communities, and the air we breathe. The installation aims to create moments in time to contemplate the impact of our actions on Earth. The underlying idea is that if we observe, listen to, and love the world around us, we can change our trajectory. In Stimson's Blackfoot language, this piece is also called Awwasukapi, a term often used to describe something unpleasant yet subjective, alluding to the idea that good things can come out of even the most unfortunate situations.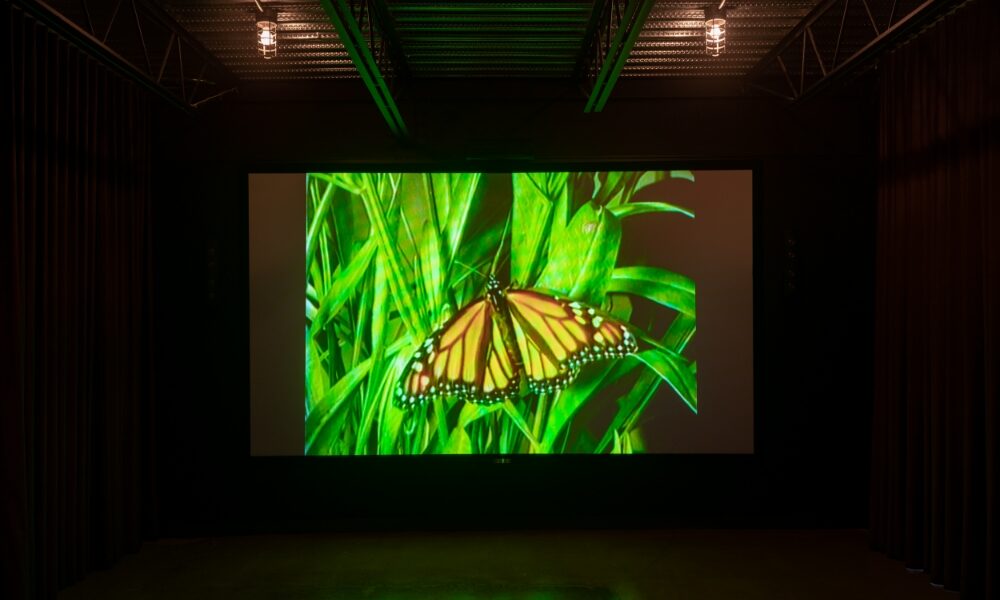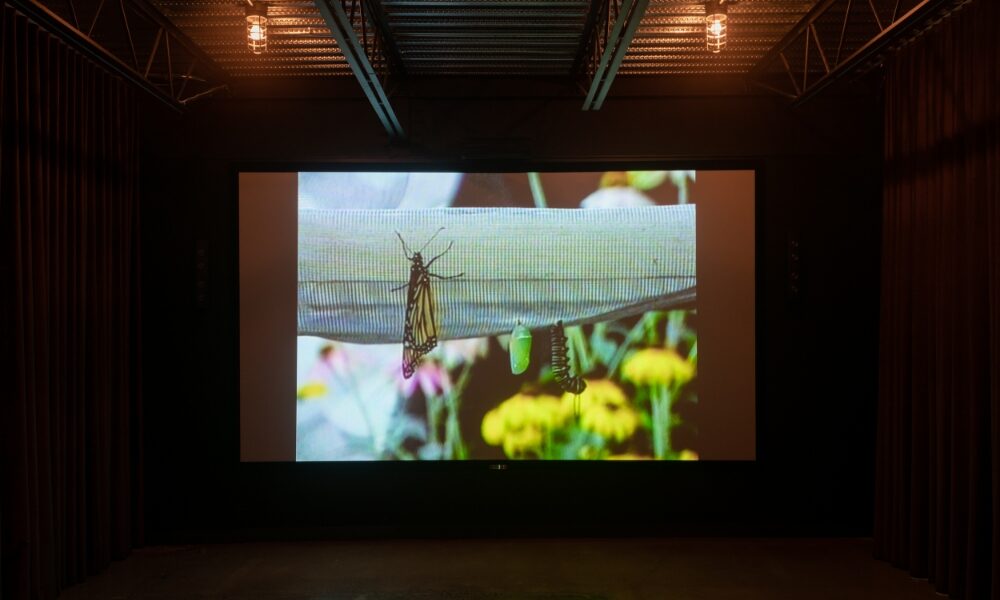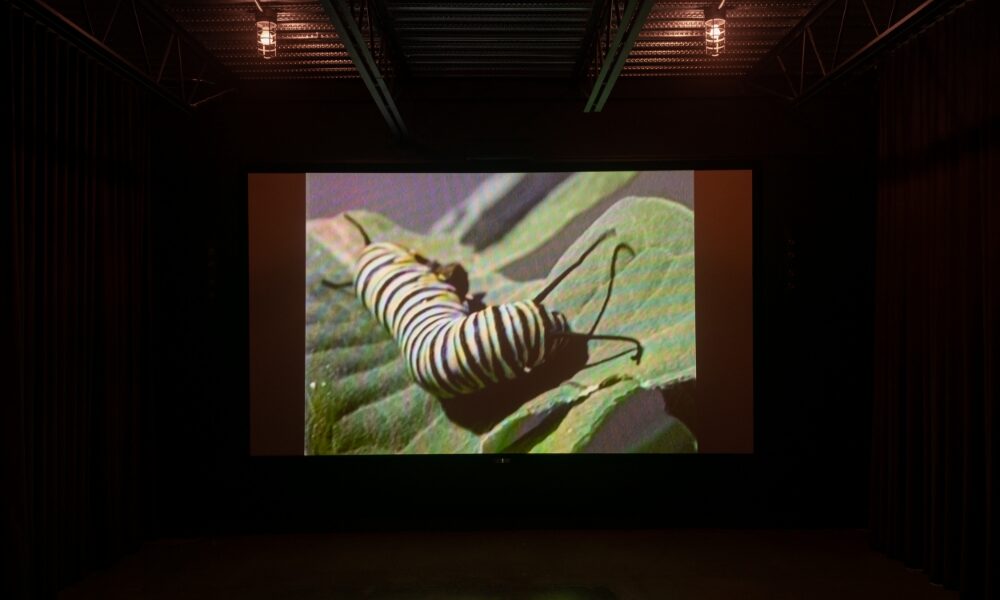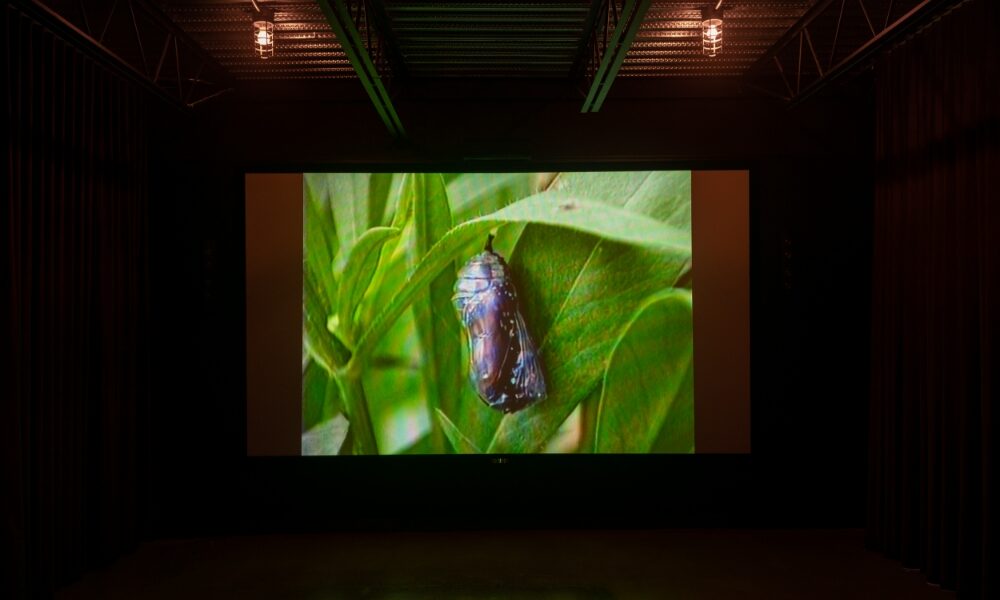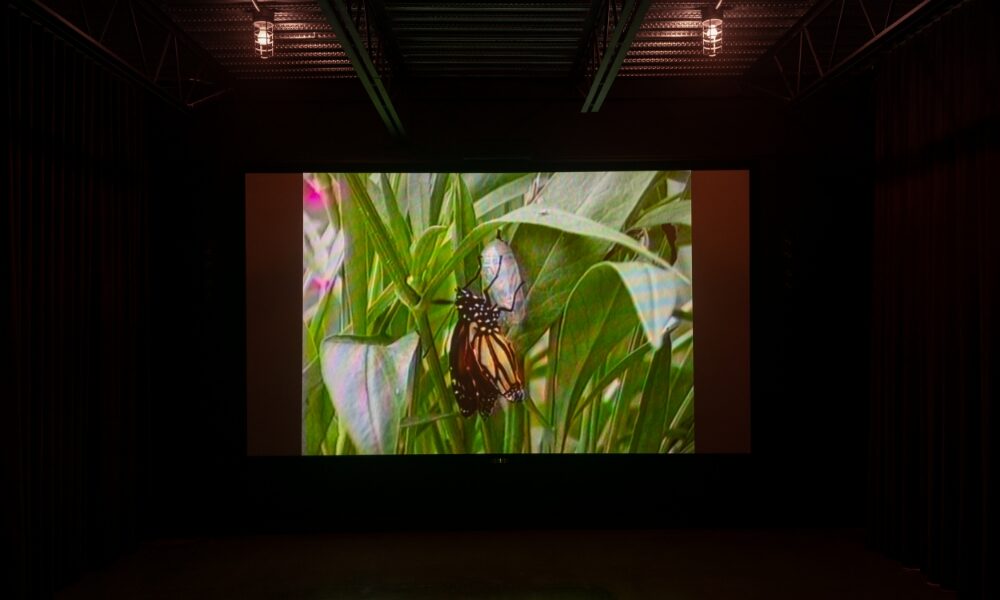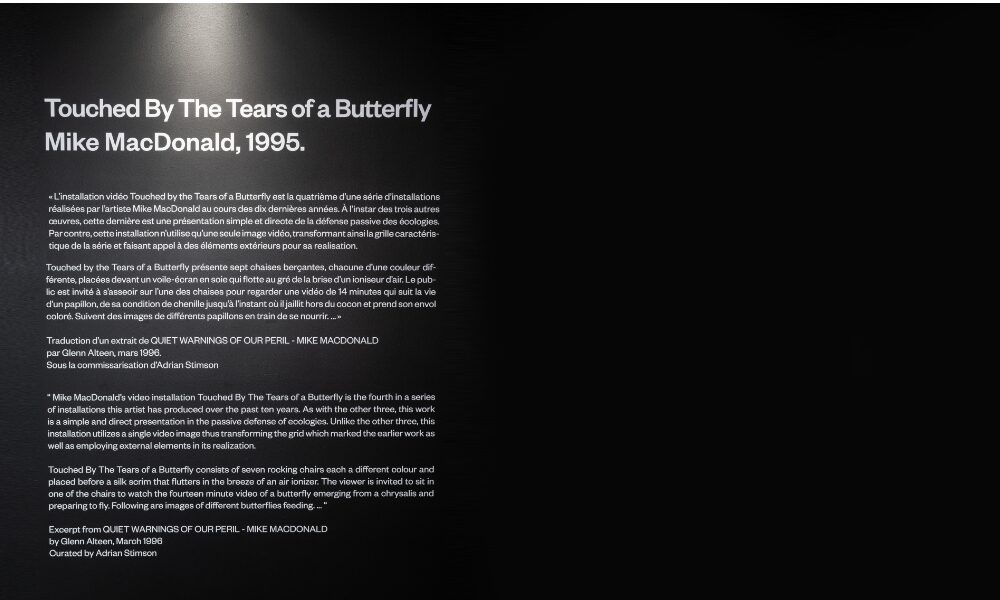 Touched By The Tears of a Butterfly
Mike MacDonald (1995)
Curated by Adrian Stimson
Mike MacDonald's video installation Touched By The Tears of a Butterfly is the fourth in a series of installations this artist has produced over the past ten years. As with the other three, this work is a simple and direct presentation of the passive defense of ecologies. Unlike the other three, this installation utilizes a single video image, thus transforming the grid that marked the earlier work and employing external elements in its realization.
Touched By The Tears of a Butterfly consists of seven rocking chairs, each a different colour and placed before a silk scrim that flutters in the breeze of an air ionizer. The viewer is invited to sit in one of the chairs to watch the fourteen-minute video of a butterfly emerging from a chrysalis and preparing to fly. Following are images of different butterflies feeding.
Excerpt from QUIET WARNINGS OF OUR PERIL – MIKE MACDONALD by Glenn Alteen, March 1996.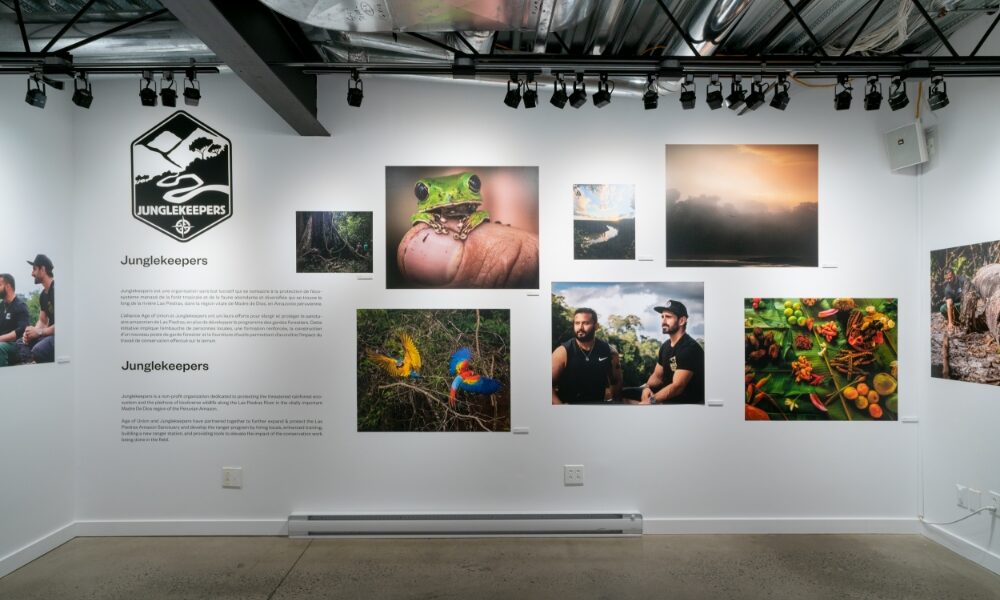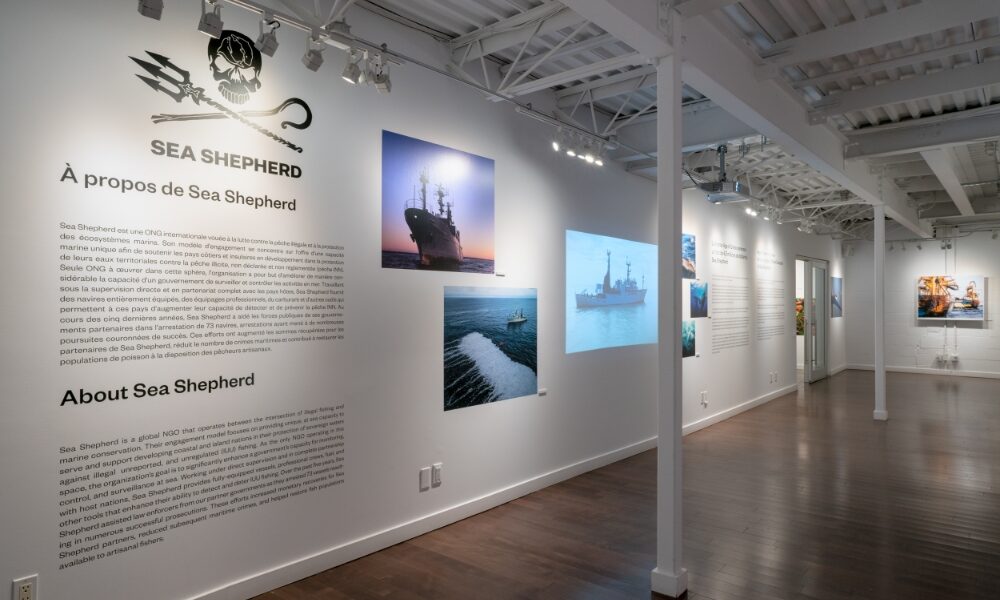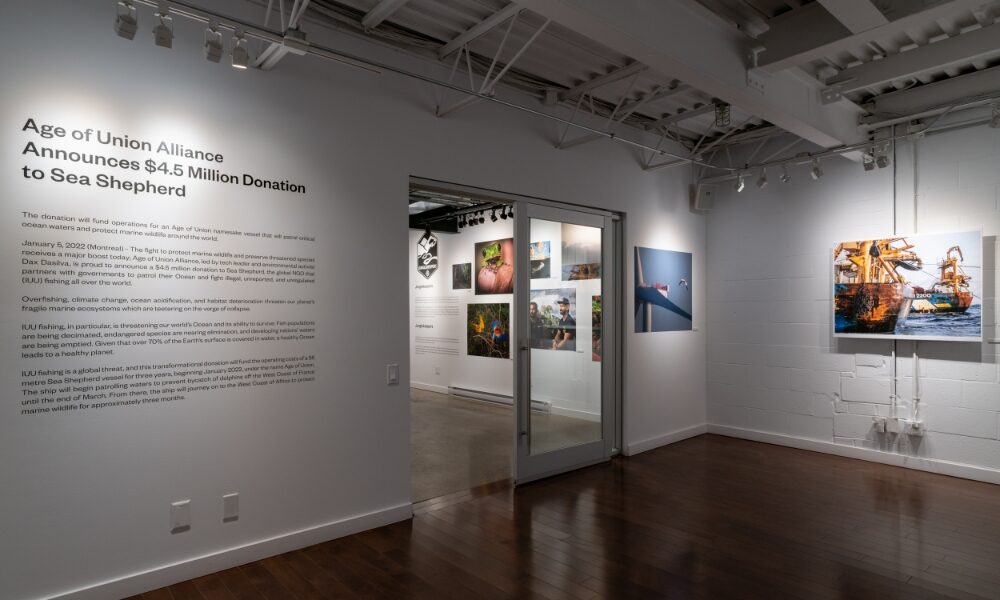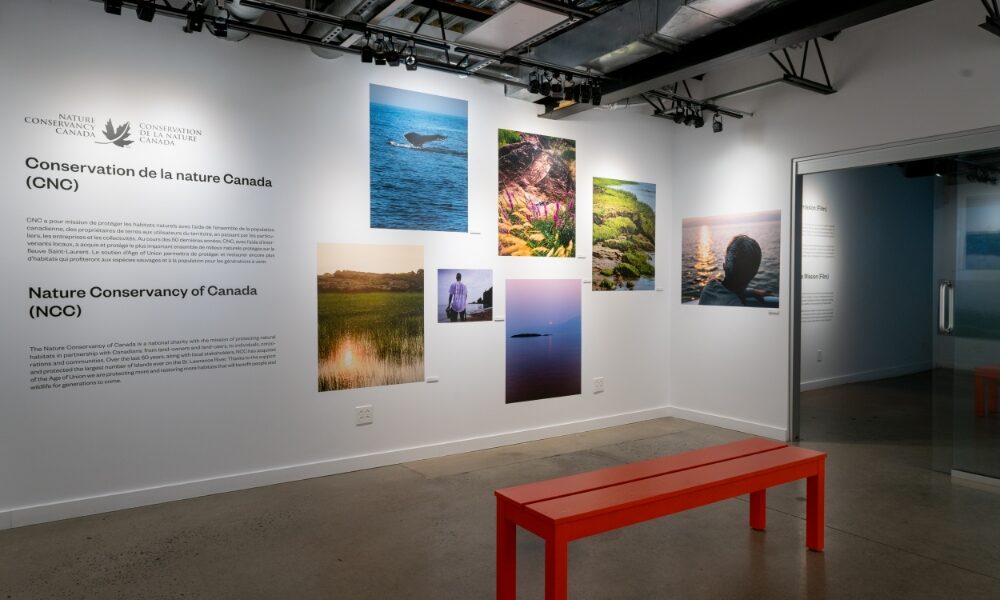 Age of Union: Ignition

Junglekeepers – Photos by Junglekeeper's team
Nature Conservancy of Canada – Photos by Jeremie Aubut, Olivier Jobin, Emma Dora
Sea Shepherd – Photos by Sea Shepherd Global
Age of Union is a non-profit environmental alliance that supports and makes visible a global community of changemakers working on-the-ground to protect the planet's threatened species and ecosystems.
Launched in October 2021 by tech leader and environmental activist Dax Dasilva in Montreal, Canada, Age of Union seeks to ignite a flame within every person through conservation efforts that solve critical environmental challenges around the world and inspire high-impact change by showing the positive impact that every individual can make.
Exhibition Proposals
To submit an exhibition proposal, please send an artist statement and support images to [email protected] with EXHIBITION PROPOSAL in the e-mail subject line. We will contact you if there is a fit.
We do not rent out the centre for events.
Land Acknowledgement
We acknowledge that the Age of Union Earth Centre is located on unceded Indigenous lands belonging to the Kanien'kehá:ka, Haudenosaunee, and St. Lawrence Iroquoians Nations, the custodians of the lands and waters on which we gather. Tiohtiá:ke/Montreal is historically known as a gathering place for many First Nations. Today, it is home to a diverse population of Indigenous and other peoples. We respect the continued connections with the past, present, and future in our ongoing relationships with Indigenous and other peoples within the Tiohtiá:ke/Montreal community and are thankful for the ability to create, collaborate, play, and work here.
Information and Rescources